ALIEN – Shiftin' Gear [AOR Heaven Classix remastered +4]
Some time ago AOR HEAVEN via their sub-label AOR Heaven Classix has reissued "Shiftin' Gear", the second album from Swedish Melodic Hard Rock masters ALIEN. Remastered and with 4 previously unreleased tracks from the original recording sessions, this is a must have gem of an album.
"Shiftin' Gear" is rarely mentioned among the fans lists as favorite, but when a band has such tremendous Classic as Alien with their self-titled debut, this usually happens.
Anyway, "Shiftin' Gear" is another awesome effort from these Swedes.
When incredible vocalist Jim Jidhed left Alien, Tony Borg recruited Pete Sandberg from the band Madison as the new singer. And what an amazing frontman he found in Mr Sandberg.
A little more Melodic Hard Rock oriented than the first album, "Shiftin' Gear" still retains the unmatched Scandinavian AOR swirls all over.
Killer songs like the pumping "In the Dead of Night", the superb ballad "Angel Eyes", the AOR-bliss of "Desperate Dreams" or the awesome harmonies of "Turn on the Radio" alongside Sandberg's soaring vocals and Borg's fantastic guitar licks make this release simply essential for everyone who loves this genre.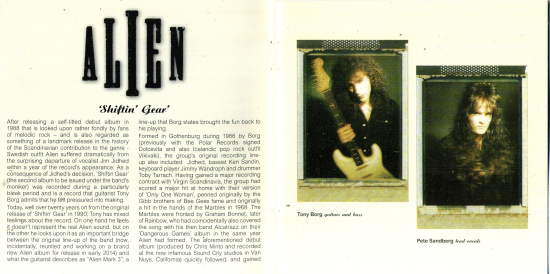 Not only the remaster sounds glorious, but also the previously unreleased songs.
Recorded during the same sessions at Studio Bohus Recording, the tracks are labeled as pre-production demos, but all sound like finished material to me. The pearl is "Name Of Love"… I don't understand how this little diamond didn't make it into the album's final track list. The song is primo Scandi AOR of the greatest order, plenty of keyboards and a killer chorus.
You need Alien's "Shiftin' Gear +4 AOR Heaven Classix" in your Melodic Hard Rock collection. It's pure Scandinavian melodic stuff, and while this AOR Heaven Classix is out of print now – a remaining un-open copy is being sold for 215,95 €, check below – it worth every cent; the sound quality is superb and there's a nice essay in the booklet about the evolution of this essential band, plus complete lyrics & photos.
A Must Have
01 – Hold on Move on
02 – Give It Up
03 – Desperate Dreams
04 – Angel Eyes
05 – In the Dead of Night
06 – Midnight Jam
07 – Turn on the Radio
08 – Strangers in a No-Man's Land
09 – Don't Turn Me Away
10 – Neon Lights
11 – Hello How Are You
BONUS TRACKS :
12 – Desperate Dreams (Studio Bohus original version)
13 – Name Of Love (Studio Bohus original version)
14 – Dead Of Night (Studio Bohus original version)
15 – Hold On (Studio Bohus original version)
Pete Sandberg – Lead Vocals
Tony Borg – Guitars, Bass
Berndt Andersson – Keyboards, Hammond, Melodica
Imre Daun – Drums
Goran Edman, Jim Jidhed – Backing Vocals
Lars "Dille" Diedriksson – Drums, Keyboards
Try Here;
www.amazon.de/Shiftin-Gear-4-Alien-2013-10-13/dp/B01H7YG4D8
.