BETH HART – War In My Mind [Deluxe Edition +2] (2019)
The Grammy nominated singer-songwriter BETH HART will be releasing her brand new studio album "War In My Mind" on 27th September, with this Deluxe Edition including 2 bonus tracks.
Produced by the renowned Rob Carvalho (Dave Matthews Band, Goo Goo Dolls), "War In My Mind" is Beth Hart's first solo album in three years and it is one that is beautifully balanced and a fair reminder of how this soulful and expression-laden woman is a true face of the darkest mysteries revealed.
She has the ability to lay the truth of her feelings down without being covered up by society and arguably her own thoughts that have been come to whisper through her songs across the last couple of decades.
Therapeutic or cure, it is never our business to determine what music may do for a person, but there is something intrinsically dominant and restorative in Beth Hart's music, whether on her own or in her triumphant collaborations with Joe Bonamassa, the music is its portrayal of a woman marking out time with the thought of progressing and being the best version of herself that she can be, an inspiration across gender and age.
A stately piano ballad that swells to an epic anthem, the title track explores the addiction-troubled years when Beth felt she couldn't go on, while 'Let It Grow' is deeply emotionally honest through its lyrics and melody.
Across songs such as the opener 'Bad Woman Blues', 'Let It Grow', 'Try A Little Harder', 'Spanish Lullabies', 'Rub Me For Luck', Beth Hart strides on from her previous works with purpose, strength and with conviction.
The final three songs 'Woman Down', 'Thankful' and 'I Need A Hero' are all intense heart felt and passionate outings with subjects that are really personal to what the singer has encountered, overcome and is now grateful for having survived.
There was a lot to admire on this album and it comes from a real sense of an artist addressing their past, very liberating and cleansing. Hart has a stunning voice and exceptional vocal range and the slow burn, sorrowful offerings here are incomparable.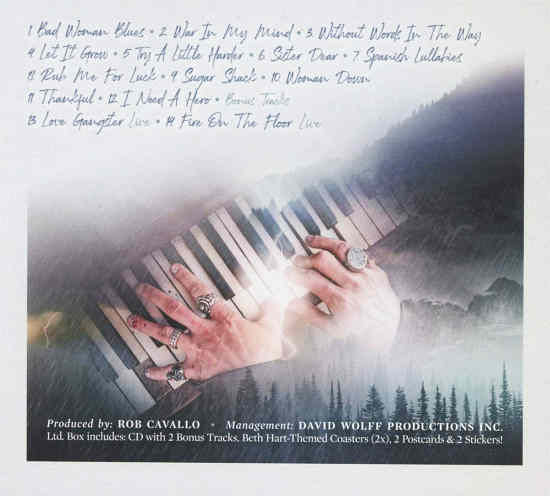 With "War In My Mind" this talented songwriter has made a record that bares her soul, wears her heart on her sleeve, and makes no apology for it.
An album which not only does Beth Hart credit, bit one that opens up about vulnerability and recovery, a timeless set of songs that only Beth Hart can deliver.
Highly Recommended
01. Bad Woman Blues
02. War In My Mind
03. Without Words In The Way
04. Let It Grow
05. Try A Little Harder
06. Sister Dear
07. Spanish Lullabies
08. Rub Me For Luck
09. Sugar Shack
10. Woman Down
11. Thankful
12. I Need A Hero
BONUS TRACKS:
13. Love Gangster
14. Fire On The Floor
Pre Order:
www.amazon.co.uk/Mind-Limited-Deluxe-Bonus-Tracks/dp/B07TMRSQYC