MOTLEY CRUE – Greatest Hits [Ltd Special Edition + all 3 Bonus CD's] *EXCLUSIVE*
One of you requested here MOTLEY CRUE's "Greatest Hits" – the original version, better than the appeared later. It's a pretty easy to find album, but the request asked for the "Ltd Special Edition", with Bonus Discs offered in select retail outlets along with the 1998 'Greatest Hits' CD release.
There were 3 different exclusives randomly offered with your purchase: one is titled "Rare Crue" including rarities indeed, other titled "Live Around The World 1989-1990" including previously unreleased recordings, and other titled "5 Live '85", also never released. All discs feature different artwork as well.
Most of these tracks on the Bonus CD's still are unavailable on any other format / release. Collector's Items, only at 0dayrox.
This original Motley "Greatest Hits" release is the best, as includes two new songs , openers 'Bitter Pill' and 'Enslaved', then the band's '80s hits fully remastered.
The Bonus Discs are a treat for Motley Crue fans and collectors in general.
If you was lucky enough to get one of these discs with you purchase, then you miss the other 2. You cannot choose which to take, it was randomly given.
But at 0dayrox we have the 3 for you.
"Rare Crue" includes rare studio tracks; 'Song To Slit Your Wrist By' was the Japanese bonus track for the 'Generation Swine' album, and only appeared later into a rare vinyl LP reissue of the album.
'Bittersuite', 'Planet Boom', 'Father' are part of the rare Quaternary EP not widely know for sure, while 'Glitter (Anthem Mix)' is a mega rare extended version of this track only included as B-side in the promo CDsingle of the song.
"Live Around The World 1989-1990" is stupendous.
Previously unreleased recordings from Motley Crue's biggest world tour during 1989-1990, very well recorded, and curiously, these versions sound much more polished the previous live takes by the band.
Then "5 Live '85" is another CD to treasure.
The band clarified after the release of this GH / bonus CD that the disc / recording were mislabeled; in fact this is a 1983 show… and I really like the raw, heavy, irreverent attitude of Motly here.
It really Rocks.
Not much more to add folks, rare material Only at 0dayrox…
Greatest Hits remastered:
01 – Bitter Pill
02 – Enslaved
03 – Girls. Girls. Girls
04 – Kickstart My Heart
05 – Wild Side
06 – Glitter (Remix)
07 – Dr. Feelgood
08 – Same Ol' Situation
09 – Home Sweet Home
10 – Afraid
11 – Don't Go Away Mad (Just Go Away)
12 – Without You
13 – Smokin' In The Boys Room
14 – Primal Scream
15 – Too Fast For Love
16 – Looks That Kill
17 – Shout At The Devil '97
Ltd Special Edition Bonus CD "Rare Crue"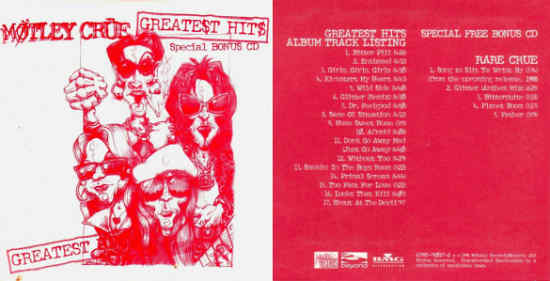 01 – Song To Slit Your Wrist By
02 – Glitter (Anthem Mix)
03 – Bittersuite
04 – Planet Boom
05 – Father
Ltd Special Edition Bonus CD "Live Around The World 1989-1990"

01 – Girls, Girls, Girls (From Live Around the World 1989-1990)
02 – Red Hot (From Live Around the World 1989-1990)
03 – All In The Name Of… (From Live Around the World 1989-1990)
04 – Dr. Feelgood (From Live Around the World 1989-1990)
Ltd Special Edition Bonus CD "5 Live '85"

01 – 10 Seconds To Love (Live '85)
02 – Piece of Your Action (Live '85)
03 – Too Young to Fall in Love (Live '85)
04 – Looks That Kill (Live '85)
05 – Live Wire (Live '85)
OUT OF PRINT