LE ROUX – Last Safe Place [Rock Candy remastered]
"Last Safe Place" completes the trio of Rock Candy Records excellent remasters from LE ROUX most celebrated '80s albums. After the glorious Pomp AOR of their previous album 'Up', for this new record Le Roux added a more commercial FM sound – according to times – to their music, with a slightly West Coast smooth AOR feel into the mix.
It's the band's most successful record, with a single reaching the Billboard Top 20 chart and other two among the Hot 100.
"Last Safe Place", produced in-house by bassist Leon Medica, took the template and moved it one stage closer towards AOR nirvana. Recorded for their new label RCA, the album satisfied on a number of levels, and is packed out with sophisticated, memorable songs and killer hooks. Indeed, the track 'Nobody Said It Was Easy' became something of a hit, reaching #18 on the Billboard charts and establishing the band as supreme contenders for the AOR crown.
But my favorite is the lively opener "Addicted", an energetic rocking AOR tuen with a radio friendly sound which video received a strong MTV rotation.
We have superb arrangements in the awesome title track, and 'You Know How Those Boys Are' is another pumping '80s AOR little gem. More commercial and with a poppy feel there's the highly enjoyable 'It Doesn't Matter' and 'Long Distance Lover', both with neat musicianship and catchy hooks.
There's fine ballads in 'Midnight Summer Dream', 'Make Believe', and my favorite and also the band's biggest hit 'Nobody Said It Was Easy', with its smooth West Coast vibe.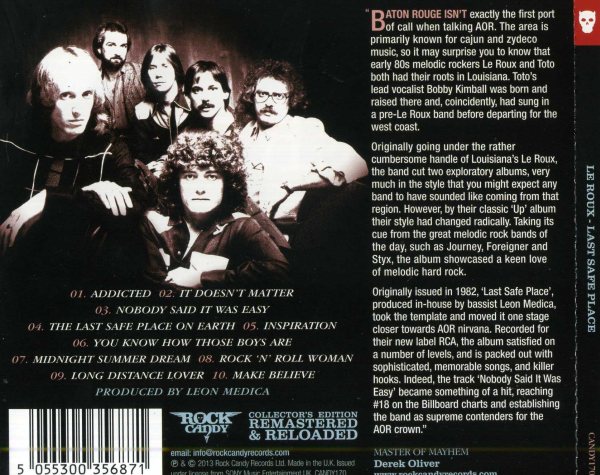 "Last Safe Place" is another superb album by Le Roux, often underrated compared with their other two '80s album due its more commercial approach. But in terms of quality, it's on par with both and it's the band's more varied record.
A delicious slice of pure '80s bliss crystal clear remastered by Rock Candy. This was requested by one of you, place yours!
Highly Recommended
01 Addicted
02 It Doesn't Matter
03 Nobody Said It Was Easy
04 The Last Safe Place On Earth
05 Inspiration
06 You Know How Those Boys Are
07 Midnight Summer Dream
08 Rock 'n' Roll Woman
09 Long Distance Lover
10 Make Believe
Jeff Pollard – vocals, guitars
Tony Haselden – guitars
Rod Roddy – keyboards
Leon Medica – bass
David Peters – drums
Bobby Campo – percussion
BUY
www.amazon.co.uk/Last-Safe-Place-Roux/dp/B00AJJV3LW