LE ROUX – Up [Rock Candy remastered]
Formed in Baton Rouge, Louisiana, LE ROUX had previously cut two albums in a bluesy rural rock style before switching allegiance to their firebrand version of melodic pomp rock / pomp AOR. Produced by feted session musician Jai Winding (Boz Scaggs), the band radical change in direction was showcased in this, their third album "Up", remastered in all its glory by Rock Candy Records.
"Up" sees Le Roux moving into a full Pomp AOR camp with a terrific rocking edge, great keyboard flurry and the lead vocals from founder Jeff Pollard akin Bobby Kimball in Toto around the same time.
Stuffed to the brim with astonishing tracks including the Pomp thrill of 'Let Me Be Your Fantasy', the ultra-melodic 'Get It Right The First Time', the glow of 'Mystery' and the truly impressive 'Roll Away The Stone', the album oozes both class and control, delivering maximum melody at every available opportunity.
The sound is big, bold and crystal clear propelling the contents to the stars and beyond.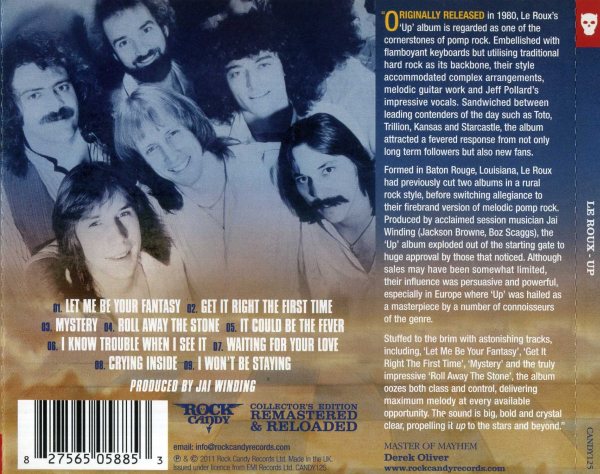 Le Roux's "Up" exploded out of the starting gate to huge approval by those that took notice. Although sales may have been somewhat limited, their influence was persuasive and powerful, especially in Europe where "Up" was hailed as a masterpiece by a number of connoisseurs of the genre.
This 24-bit remastering from original source tapes by Rock Candy is truly excellent, recapturing the bottom end.
Highly Recommended
01 – Let Me Be Your Fantasy
02 – Get It Right The First Time
03 – Mystery
04 – Roll Away The Stone
05 – It Could Be The Fever
06 – I Know Trouble When I See It
07 – Waiting For Your Love
08 – Crying Inside
09 – I Won't Be Staying
Jeff Pollard – lead vocals, guitars
Rod Roddy – keyboards, vocals
Tony Haselden – guitar
David Peters – drums
Leon Medica – bass
Bobby Campo – percussion, vocals
BUY
www.amazon.co.uk/Up-Roux/dp/B005YBGVTE