STEELHEART – Steelheart [Japan SHM-CD remastered +1]
With the new STEELHEART album out, many asked for their self-titled debut "Steelheart" remastered in all its glory. This is part of Universal Music Japan reissue series on SHM-CD, remastered and sold at reduced price, many of these now out of print.
Steelheart was one of the last of the '80s hair metal bands to explode into the scene, but their music certainly has the same hard-rocking, feel-good sound, accompanied by some serious technical brilliance.
On their self-titled debut album there's a good mixture of heavier tracks as well as spine-tingling power ballads, and this is definitely the sort of album that will bring all serious air guitarists / air vocalists to the floor of their imaginary arena on their knees at some point.
With MTV helping boost the band's profile – second single 'I'll Never Let You Go (Angel Eyes)' reached No. 14 on the Billboard charts, and was MTV's 2nd most requested video – and with the focus being on singer extraordinaire Miljenko Matijevic, Steelheart couldn't help but be noticed.
The album went platinum, and contained a huge and glossy production courtesy of Mark Opitz.
There are a heap of influences, going from Firehouse / Def Leppard polished melodies to Whitesnake / Dokken attack, but with the soaring vocals provided by Matijevic, the band are lifted to a higher level.
The incredible vocal range of Matijevic (check 'Can't Stop Me Lovin' You' combined with the class of guitarists Chris Risola / Frank DiCostanzo and an at times kick-ass rhythm section, the results are stellar.
There's not a weak song here, all catchy and rocking.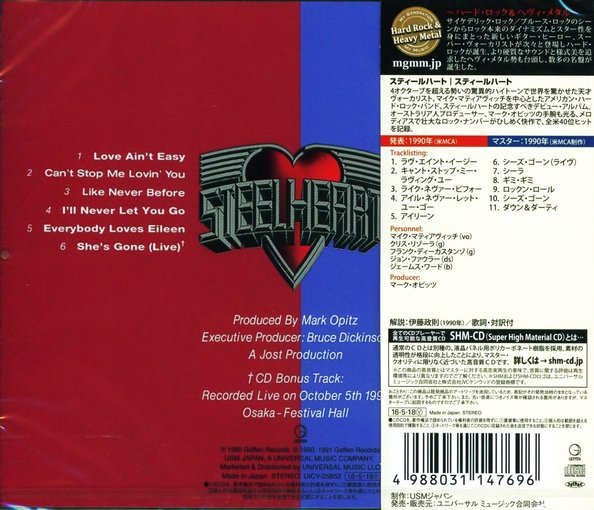 This reissue feature the original album artwork (the album was later re-released with a new cover) and includes the bonus track 'She's Gone (Live)'.
Among the great things about Steelheart's debut, something that always impressed me is the terrific production. The sound is huge, massive, bombastic, but crystal clear at the same time.
Wait to hear this remastering / SHM-CD… awe-so-me.
KILLER album.
UNIVERSAL MUSIC JAPAN ~ UICY-25652
【SHM-CD】
S T E E L H E A R T / スティールハート レンタル
01 – Love Ain't Easy
02 – Can't Stop Me Lovin' You
03 – Like Never Before
04 – I'll Never Let You Go
05 – Everybody Loves Eileen
06 – She's Gone (Live) [Bonus Track]
07 – Gimme Gimme
08 – Sheila
09 – Rock 'n' Roll (I Just Wanna)
10 – She's Gone
11 – Down n' Dirty
Michael Matijevic – lead vocals
Chris Risola – lead guitar
Frank DiCostanzo – rhythm guitar
James Ward – bass guitar
John Fowler – drums
Zael Ahmad – second vocals
Yazid Khan – violin
Jai Winding – piano on "She's Gone"
BUY
www.cdjapan.co.jp/product/UICY-25652