BONFIRE – Point Blank [YesterRock remaster +7] *HQ*
Many of you asked for German Melodic Hard Rock pioneers BONFIRE classic albums in its remastered form released by YesterRock Records specialists including bonus tracks. Let's go now with their superb "Point Blank", another terrific slice of melodic hard rock crafted 1989, 'the mighty year' for the genre.
While previous effort 'Fire Works' is regarded as Bonfire's masterpiece, follower "Point Blank" is on par in my book, even a more mature and complete piece of work if you ask.
The album begins with 'Bang Down the Door' and 'Waste No Time', two full-on melodic hard rock songs with infectious melodies and just exploding with energy. Co-written by master Jack Ponti, 'Hard On Me' has some nice keyboards in the intro and slows down just a bit to a more midtempo AOR level.
After this comes 'Why is it Never Enough', the first ballad in a classy Bonfire mold, soon after followed by the anthemic 'Tony's Roulette' which guitar melody line is very recognizable and a gang shouted chorus that makes this a sleeper hit amongst Bonfire fans.
Then comes one of the best Bonfire songs ever; 'You're Back'. With a beautiful intro riff that is forever stuck in my mind, this song shows everyone the blueprint to melodic hard rock perfection, pounding drums, huge melodies, and a chorus that borders on godliness it simply cannot be beat. I guarantee that if you take one listen to it you will absolutely love it.
'Look of Love' is the kind of atmospheric midtempo only Bonfire can do, next the Desmond Child co-penned 'The Price of Loving You' brings more AOR to the fore. Child later recorded the song for his Discipline album in 1991.
'Freedom is My Belief' (great solo) and 'Gimme Some' keep the fire burning, and next arrives the roaring 'Say Goodbye' a straight out of the 80's anthemic, singalong, fist pumping of a song.
Out of the five remaining songs on Point Blank we get one crunchy track in 'Never Surrender', one fast hard rocker with '20th Century Youth Patrol', one spoon solo, one soft ballad (Who's Foolin' Who) and one more monster of a song with 'Know Right Know'. An excellent close to an excellent album.
This remastered reissue includes 7 bonus live tracks worth of listen.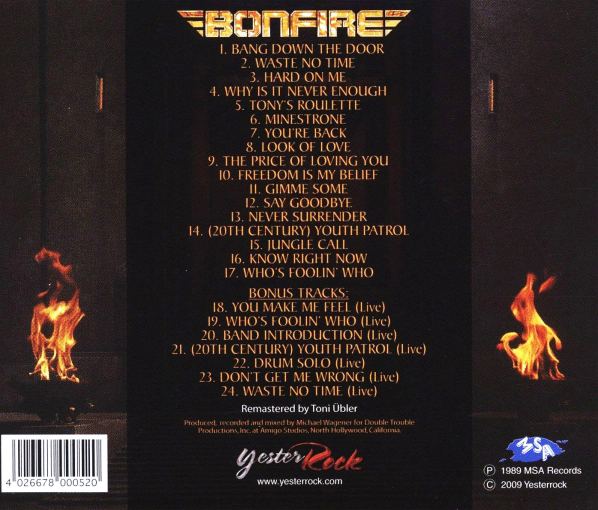 I know that with all the praise I've lauded on "Point Blank" some readers might be skeptical that this is even better than 'Fire Works', but at least, is equally good. I honestly do believe that this is one of the best Melodic Hard Rock albums ever made.
Almost every song on here is '80s Melodic Hard Rock / AOR close to perfection, from songwriting to execution and production.
For us, A Must Have
01 – Bang Down The Door
02 – Waste No Time
03 – Hard On Me
04 – Why Is It Never Enough
05 – Tony's Roulette
06 – Minestrone
07 – You're Back
08 – Look Of Love
09 – The Price Of Loving You
10 – Freedom Is My Belief
11 – Gimme Some
12 – Say Goodbye
13 – Never Surrender
14 – (20th Century) Youth Patrol
15 – Jungle Call
16 – Know Right Now
17 – Who's Foolin' Who
BONUS TRACKS:
18 – You Make Me Feel (Live)
19 – Who's Foolin' Who (Live)
20 – Band Introduction (Live)
21 – (20th Century) Youth Patrol (Live)
22 – Drum Solo (Live)
23 – Don't Get Me Wrong (Live)
24 – Waste No Time (Live)
Claus Lessmann – lead & backing vocals, acoustic guitar
Angel Schleifer – guitar, backing vocals
Joerg Deisinger – bass, backing vocals, mouth drums
Edgar Patrik – drums, percussion, backing vocals
additional musicians:
Hans Ziller – 2nd guitar solo on 1, slide guitar on 4, lead guitar on 5
Fred Curci (Alias) – additional backing vocals
BUY
www.amazon.de/Point-Blank-Bonfire/dp/B001V7SG5W