BONFIRE – Fire Works [YesterRock remaster +8] *HQ*
Many of you asked for German Melodic Hard Rock pioneers BONFIRE classic albums in its remastered form released by YesterRock Records specialists including bonus tracks.
Let's go now with their masterpiece "Fire Works", A MUST HAVE in your collection.
For their second album, their recording label BMG International, seeing an enormous potential in Bonfire, hired the melodic hard rock producer of the moment in 1987, Michael Wagener.
There's also songwriting contributions from masters Jack Ponti and Joe Lynn Turner, and the session drummer was Fifth Angel / Alice Cooper and future House Of Lords Ken Mary.
The twin guitar attack of Hans Ziller and Horst Maier is as effective as any such duo from the time period, providing fantastic riffs, excellent melodies, and blazing solos from Ziller. What you get with "Fire Works" is perhaps one of the best combinations of heavy plus melodic-ness ever to emerge from the glam hard rock era.
The album was released with at least three different covers (and as both 'Fire Works' and 'Fireworks' before you ask). But what matters is the music packed inside, and believe me, this is one of the best melodic hard rock albums ever made.
I still remember the first time I listened to Bonfire: it was this album, and after the first bits of opener 'Ready 4 Reaction' I resulted hooked forever with the band. The music was simply brilliant; an awesome opening riff, massive drums, hugely melodic clean vocals and a killer chorus.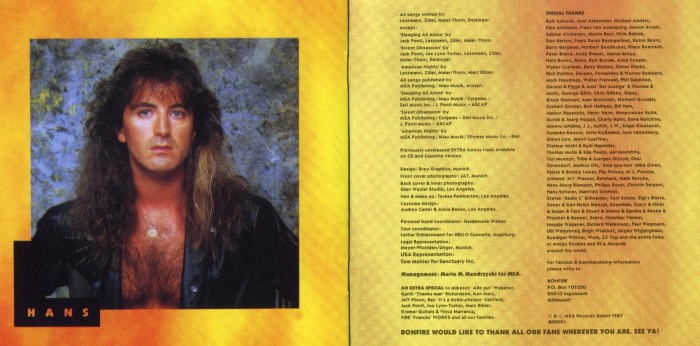 After that terrific opener, there are no low points to be found. 'Never Mind', 'Sleeping All Alone', and the huge-chorused 'American Nights' headline the big rockers, while 'Give It A Try' serves up a great ballad.
'Sleeping All Alone' is one the Turner / Ponti amazingly huge and catchy contributions, the other the very good 'Sweet Obsession' (which Turner would record years later on a solo release).
I forgot to mention that Marc Ribler (Helix, Jim Jidhed) appears as co-writer on another mammoth track, 'American Nights', which has got one of the most incredible bridges I've ever heard.
There's a mid-paced genius on 'Fantasy', each and every track a text-book example of how to construct the perfect Melodic Hard Rock winner. And then there's 'Don't Get Me Wrong', with its multi-layered chorus that is just utterly and fantastically amazing!
Intoxicating, fist-pumping riffs dominate 'Champion', with another sing-along chorus. That ever-elusive merging of radio-friendly accessibility and thick, chunky distortion permeates every single song.
At the back end, the anthemic 'Cold Days' rounds out the track list, keeping the energy going right to the last moment.
Bonfire's "Fire Works" is as close to perfection as an album in this genre could ever be. It has it all; awesome songs, great musicianship, and top class production. Nuff said.
ESSENTIAL
01 – Ready 4 Reaction
02 – Never Mind
03 – Sleeping All Alone
04 – Champion
05 – Don't Get Me Wrong
06 – Sweet Obsession
07 – Rock Me Now
08 – American Nights
09 – Fantasy
10 – Give It A Try
11 – Cold Days
BONUS TRACKS:
12 – You Make Me Feel (Live)
13 – Give It A Tryl (Live)
14 – SDIl (Live)
15 – Bass Solol (Live)
16 – Drum Solol (Live)
17 – Don't Get Me Wrongl (Live)
18 – Championl (Live)
19 – American Nights (Live)
Claus Lessmann – lead & backing vocals
Hans Ziller – lead, rhythm & acoustic guitars, backing vocals
Horst Maier – rhythm guitar, backing vocals
Jörg Deisinger – bass, backing vocals
additional personnel:
Ken Mary (House Of Lords) – drums, percussion
Martin Ernst – keyboards
BUY
www.amazon.de/Fireworks-Bonfire/dp/B001V7SG5M