BONFIRE – Don't Touch The Light [YesterRock remaster +7] *HQ*
Many of you asked for German Melodic Hard Rock pioneers BONFIRE classic albums in its remastered form released by YesterRock Records specialists including bonus tracks. This is their bright debut album "Don't Touch The Light", plus 7 bonus tracks on this reissue.
Recorded and released 1986 – what a year – "Don't Touch The Light" sported that typical melodic and polished production from the era, and a band hunger for big things. Yeah, this one is from the good old days of genuine, honest, quality Melodic Hard Rock.
Seems most bands trying to replicate that sound today either struggle with how to properly re-create the atmosphere or miss the mark entirely. Quite often it's necessary to take a trip back and remind ourselves of how this AOR oriented stuff is done right.
Bonfire is a perfect example. "Don't Touch The Light" was their first album following their name change from Cacumen, and let's be honest, "Bonfire" resonates with a wider audience. Their prior experience pays off as well, as the resulting 'debut' album has all the sense of industry veterans at the helm.
Following the obligatory intro track, the familiar riffs and vocals of Dokken wash over the speakers. Wait, what? No, that's definitely Bon Jovi… or is it Zebra? That's really the thing about Bonfire during this era; if you didn't already know they were a German band, it would be just that easy to tag them as an L.A. outfit.
However, if you look and listen a bit closer, there's something else at work here. The real key to Bonfire's inherent accessibility is their straightforward approach to creating pure, melodic rock.
While their Cacumen days may have held more heaviness, and following albums would be more resonant with fans, "Don't Touch The Light" could be seen as laying the groundwork for how the new Bonfire lineup would structure their albums.
Much credit should be given to the smooth singing of Claus Lessman, although the whole band provides additional vocals.
Opener "Starin' Eyes" might not have been the best choice for the first track, it's a great tune but relies more on groove than catchiness. Next up is "Hot To Rock", which should have started the album off as it's a great rock anthem with uptempo verses and that unique '80s vibe.
"You Make Me Feel" is a classy Euro power ballad with the magic of its era, followed by the harder "Longing For You" and the AORish title track.
"S.D.I." is a very US sounding midtempo (akin a melodic Dokken), while the ultra melodic rocker "No More" has some Scorpions on it. "L.A." closes out the album with another great opening riff courtesy of guitar duo Hans Ziller and Horst Maier. They use a very distinctive tone that reminds me of a huge stack of Marshall amps.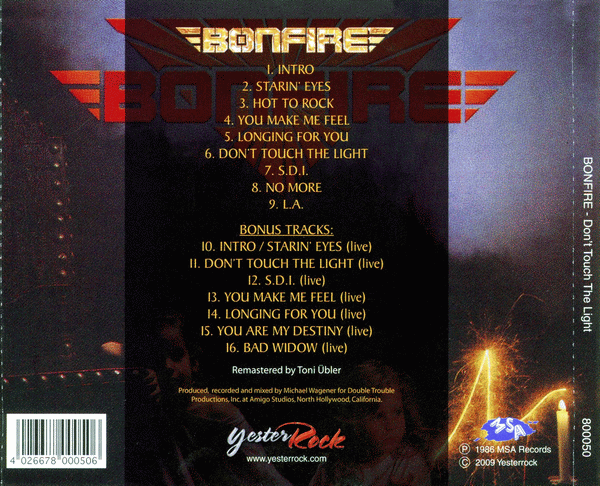 With "Don't Touch The Light" Bonfire patented the Melodic Hard Rock sound to be developed in Europe in years to come, influencing dozen of bands. The next few years would see the release of Fireworks and Point Blank, which only served to increase their foothold as German Melodic Rock masters.
Released a year before Def Leppard and Whitesnake dropped their bombshell albums and before Bon Jovi really got rolling, this is a great entry in the logbook of Bonfire's early years.
This YesterRock remaster is pristine, and includes 7 bonus live tracks from the era – not the best live tapes in the world, but nonetheless remains as a solid showcase to what Bonfire was creating at the time.
Highly Recommended
01 – Intro
02 – Staring Eyes
03 – Hot To Rock
04 – You Make Me Feel
05 – Longing For You
06 – Don't Touch The Light
07 – S.D.I.
08 – No More
09 – L.A.
BONUS TRACKS:
10 – Intro – Staring Eyes (Live)
11 – Don't Touch The Light (Live)
12 – S.D.I. (Live)
13 – You Make Me Feel (Live)
14 – Longing For You (Live)
15 – You Are My Destiny (Live)
16 – Bad Widow (Live)
Claus Lessmann – lead & backing vocals
Hans Ziller – lead & acoustic guitars, backing vocals
Horst Maier – lead guitar, backing vocals
Joerg Deisinger – bass, backing vocals
Dominik Huelshorst – drums, percussion, backing vocals
BUY
www.musik-sammler.de/media/698840