HARLEQUIN – One False Move [Rock Candy remaster] (2012)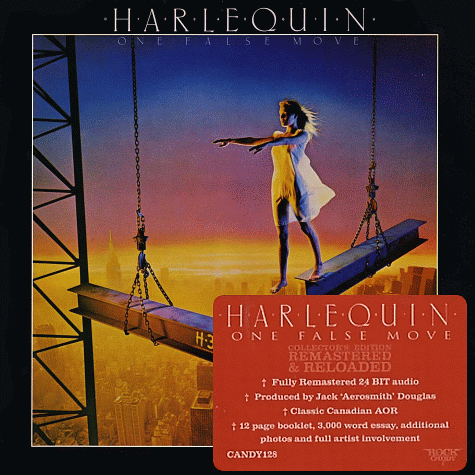 *
For a long time Canada was the most productive Rock Nation on the planet, and HARLEQUIN one of the best bands of the bunch.
"One False Move" was their third outing from back in 1982 following on from the platinum selling 'Love Crimes' which was also re-issued by Rock Candy not too long ago.
With "One False Move", Winnipeg's finest band delivered a much more solid effort, lyrically and musically.
The usually prolific singer George Belanger took a back seat on this one to the emerging songwriting talents of guitarist Glen Willows, who as well as penning the buoyant opener "I Did It For Love" and the hypnotic "Superstitious Feeling" – the album's two big hits – also co-wrote the other eight songs as well.
There's plenty of great commercial AOR with Gary Golden's trademark keyboard fills, Willows' understated guitar parts and Belanger's distinctive choruses all over "Heart Gone Cold", "Shame If You Leave Me" and "Say Goodnight" as well as the slightly heavier guitar-based rockers "Hard Road" and "Heavy Talk".
They stretch out a little on the atmospheric "Ready To Love Again" and the semi-balladic "It's A Woman You Need".
Expertly produced at the time by one of the band's biggest supporters – Aerosmith and Cheap Trick producer Jack Douglas – Rock Candy Records has done another fine job with the remaster, making sure that "One False Move" first switch to CD sparkles as much as it should.
Great One.
01 – I Did It For Love
02 – Hard Road
03 – Shame If You Leave Me
04 – Say Goodnight
05 – Ready To Love Again
06 – Fine Line
07 – Heart Gone Cold
08 – Heavy Talk
09 – Superstitious Feeling
10 – It's A Woman You Need
George Belanger – vocals
Glen Willows – guitars, vocals
Gary Golden – keyboards, guitar, vocals
Ralph James – bass
David Budzak – drums, percussion, vocals
BUY IT !
www.barnesandnoble.com/w/one-false-move-harlequin/24388642