MAGNUM – On The Thirteenth Day (2012)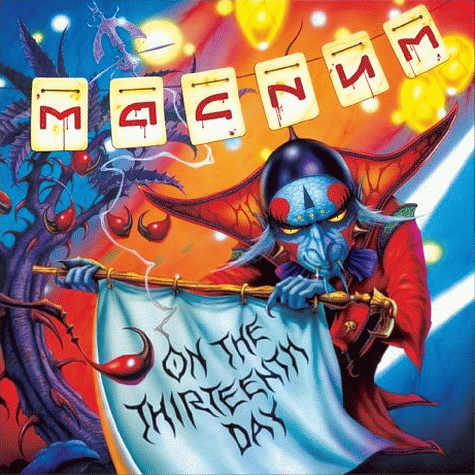 *
British legend MAGNUM has been 40 years in the music business delivering quality.
Although the band's sixteenth studio album "On The Thirteenth Day" isn't likely to see Magnum occupying the lofty heights of their pomp, pop and prog glory years, that's no fault of their core duo: vocalist Bob Catley and guitarist/songwriter Tony Clarkin.
Time moves on and fashions change, and the kind of lush, melodic fare that Clarkin composes is now appreciated by a more discerning audience than in the band's heyday.
"On The Thirteenth Day" expands itself upon the impressive catalogue Magnum have amassed over the decades and stands tall and proud alongside their most revered releases. The formula runs pretty close to the last three Magnum offerings; 'Princess Alice And The Broken Arrow', 'Into The Valley Of The Moonking' and 'The Visitation', but considering how pleasing on the ear they all were, the fact that "On The Thirteenth Day" betters them is recommendation enough.
Ease into the uplifting "Shadow Town", the ever building and instantly memorable "So Let It Rain" (the stick in your head song of the album), the wonderfully titled and welcomingly familiar "Blood Red Laughter", or stomping, melancholy intent of "From Within" for confirmation that this is a vintage motor still running at full tilt.
Pleasingly there are a couple of curve-balls, with "Dance Of The Black Tattoo" having a chunkier riff than this band are known for, while "Broken Promises" follows a similar path, but with a bluesier edge.
The voice of the band, Bob Catley, maybe sounds a little lived in these days, but few frontmen can offer up the warmth and emotion of his delivery, while long standing keyboard player Mark Stanway adds the layers of atmosphere that mark out the Magnum signature sound.
The 'most recent' lads also stack up well, with Harry James on drums and bassist Al Barrow proving once again that having the most solid of rhythm sections is priceless in any band of any genre.
However without guitar player and songwriter Tony Clarkin, this band simply wouldn't be, so let's all doff our caps to 'The Hat' and pay reverence to yet another cracking set of songs and another stunning six string performance.
"On The Thirteenth Day" is a fantastic blend of all of the elements with which Magnum have impressed, seduced and won our affection for almost as long as we can remember now.
This is a quite a diverse set of songs but all with the Magnum signature sound, ranging from hard edge rockers, sing along melodic anthems and technically clever ballads with very meaningful lyrics. All definitely melodious and commercial yet in a way sophisticated.
"On The Thirteenth Day" is an impressive statement from a band that would have every right to be sitting with their feet up and living off past glories at this stage of their careers.
The fact that they are not is a reason to rejoice.
Very Good
01. All The Dreamers
02. Blood Red Laughter
03. Didn't Like You Anyway
04. On The 13th Day
05. So Let It Rain
06. Dance Of The Black Tattoo
07. Shadow Town
08. Putting Things In Place
09. Broken Promises
10. See How They Fall
11. From Within
Vocals: Bob Catley
Guitars: Tony Clarkin
Keyboards: Mark Stanway
Bass: Al Barrow
Drums: Harry James
BUY IT !
hmv.com/hmvweb/displayProductDetails.do?sku=910231