LOUDNESS – Hurricane Eyes (Japanese Version) [SHM-CD remastered LTD Release] Out Of Print
"Hurricane Eyes" was the seventh studio album by legendary Japanese metal band LOUDNESS, recorded in the US and released in 1987 worldwide with standard English lyrics. But a "Japanese Version" was subsequently released only in Japan later in the year with most of the lyrics in Japanese, featuring a different mix, song sequence and artwork.
For many, this "Hurricane Eyes Japanese Version" is far superior, and to be honest this remastered edition on SHM-CD sounds, indeed, awesome.
Produced by legend Eddie Kramer (Led Zeppelin, Jimi Hendrix, Kiss) with a glossy, American-oriented sound, we have also some other remarkable names involved. The song "So Lonely", a reworked version of 'Ares Lament' from the album Disillusion of 1984, was produced by Andy Johns, another world famous studio guru.
And there's super-talented Gregg Giuffria providing all keyboards, plus former Giuffria David Glen Eisley and Tod Howarth (Frehley's Comet, 707, Ted Nugent) helping with backing / harmony vocals to make the choruses more 'American catchy'.
"Hurricane Eyes" presents a slicker, more 'Westernised' version of Loudness' sound. The progressive tendencies were out, powerful choruses were in, and the production was given a polish the likes of which Loudness' material had never known before.
However, while "Hurricane Eyes" was a great hard rock / metal album in its own right, it did not quite feel like a 'proper' Loudness album like 'Disillusion' or 'Devil Soldier'.
This was partially down to the lack of aforementioned progressive song structures, already largely stripped away on Loudness previous album, but fans realized, upon hearing this Japanese-language version, that it was the lack of Japanese lyrics that was truly crucial to the trademark Loudness sound.
This Japanese Version of "Hurricane Eyes" stands as one of the most powerful Loudness albums, and this is down to the combination of an absolutely cracking songwriting and a career-best performance from vocalist Minoru Niihara.
This man had already put on a strong performance on the original English version of this album, but hearing him belt out 'S.D.I.' and 'Strike Of The Sword' in his mother tongue instead of his charming-but-compromised English gives you goosebumps.
Musically, "Hurricane Eyes Japanese Version" is not significantly different to the original; the production / mix is supposedly slightly different, as are the arrangements, but I didn't really pick up on these. Maybe I am too busy being blown away by the new-and-improved vocals.
Song-wise, this is slick, powerful '80s metal / hard rock along the lines of Dio, Impellitteri, Accept, early Queensryche & Dokken and the like, with some Van Halen feel thanks to Akira Takasaki's hot guitar chops.
"Hurricane Eyes" it is more focused on catchiness and instant short songs than the Loudness of the past and is frequently criticized for being 'commercial'.
However, I'd like to urge such naysayers to listen to Crazy Nights, Let it Go, Geraldine and other older Loudness songs. This band has always had a commercial edge and at least one obviously radio-geared tune per album.
As example, here 'Rock 'n' Roll Gypsy' indeed rocks with a commercial hit potential to rival any US hard rock bands at the moment (1987).
Overall, the songs can easily be allocated to four categories: the mid-paced slick hard rockers ('Take Me Home'), the fast US metal song ('Strike of the Sword'), the ballad ('So Lonely') and the mentioned above commercial 'hit' ('Rock 'n' Roll Gypsy').
These songs are excellent in their own right, perfect examples of the aforementioned categories.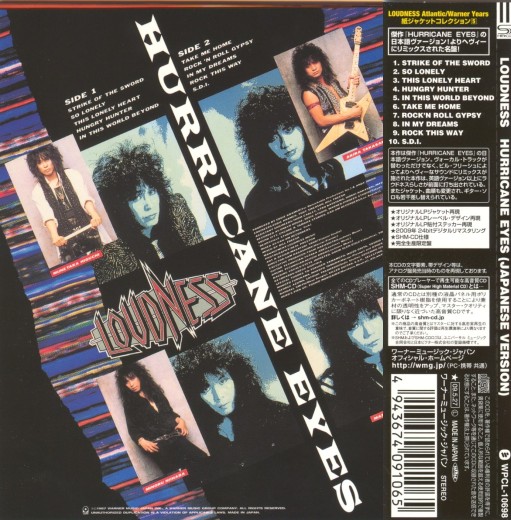 Personally, I rank "Hurricane Eyes Japanese Version" much higher than the original 'Westernised' version. The Japanese vocals improve this album immeasurably, as well as the more 'rocking' mix.
This remastered reissue on SHM-CD sounds terrific, unfortunately a Limited Release now out of print. You'll have to pay through the nose to get it, but believe me, it's worth it.
Highly Recommended
Warner Music Japan ~ WPCL-10698 【SHM-CD / LTD】
LOUDNESS 『HURRICANE EYES』
01 – Strike Of The Sword
02 – So Lonely
03 – This Lonely Heart
04 – Hungry Hunter
05 – In This World Beyond
06 – Take Me Home
07 – Rock 'n Roll Gypsy
08 – In My Dreams
09 – Rock This Way
10 – S.D.I.
Vocals – Minoru Niihara
Guitar – Akira Takasaki
Bass – Masayoshi Yamashita
Drums – Munetaka Higuchi
with;
Keyboards – Gregg Giuffria
Backing Vocals – David Glen Eisley, Steve Johnsted, Tod Howarth
Produced by Eddie Kramer & Andy Johns (track 2)
OUT OF PRINT
www.cdjapan.co.jp/product/WPCL-10698
.