EUROPE – Bag Of Bones [Japan Edition +1] Out Of Print
EUROPE has started this week 'The Final Countdown 30th Anniversary Tour' with dates all over the Continent. And as it was requested by a reader, it's a good opportunity to revisit one of Europe's best recent albums; "Bag Of Bones", in its Japan Edition with bonus track, now out of print.
On this recording the band decided go back to their roots and simply play pure heavy rock and roll, with classic elements from Whitesnake, Led Zeppelin, Deep Purple or UFO, delivering huge riffs, pounding drums and bass, Hammond organ and arena-ready vocals to die for.
If you think of Europe as the old 'ballad band', you will be wrong as riff after riff is what hits home on "Bag Of Bones".
The three-minute opener "Riches To Rags" says it all. Huge riff from John Norum and a solo to match. He really does shine on this CD and his partnership with Joey Tempest on vocals is just stunning, with great drums and patterns from Ian Haugland & John Leven on bass, and Mic Michaeli's keys adding the depth to every song.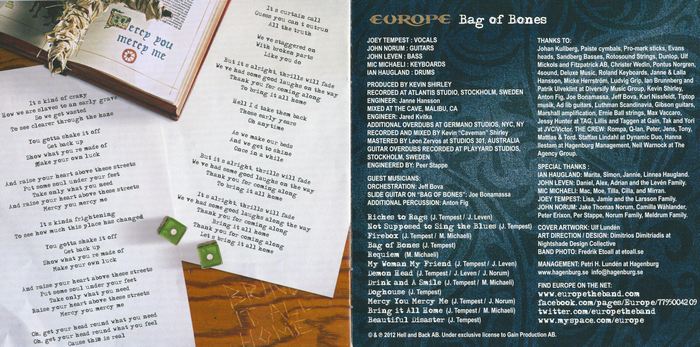 In this rocking CD, only the short orchestration prelude "Requiem" and last track "Bring It All Home", brings the pace down. "Not Supposed to Sing the Blues", the advanced single, was a clear demonstation of the classic hard rock orientation of this recording.
The title song "Bag Of Bones", with Joe Bonamassa guesting on guitar, is an absolute classic, while "Firebox" (with shades of Zep's 'Kashmir') is not very far behind. "My Woman My Friend" proves that Joey Tempest still has the range in his voice and we also have great keyboards and a Norum solo.
"Drink And A Smile" is a great acoustic again with some Led Zeppelin / Coverdale scent, a bluesy track followed by the vintage and effective hard rocker "Doghouse". "Demon Head" could have been written by Whitesnake with its opening keyboards and superb vocals from Joey in a very classic Hard Rock way.
"Bring It All Home" ends the regular edition in the form of a stupendous bluesy ballad, while the Japanese bonus "Beautiful Disaster" gives us another shot of rockin' brilliance.
Definitively, in this current Europe the sugary ballads are gone, but we have gained a really, really good Classic Rock / Hard Rock band.
To sum up, "Bag Of Bones" has great songs, excellent vocals and super-musicianship by all members, with a special mention to John Norum's brilliant guitar work. Kevin Shirley's production is faultless as always, providing a vibrant sound.
A highly recommended addition to any rock fan collection.
Victor Entertainment ~【VICP-65047】
E U R O P E 『 バッグ・オブ・ボーンズ 』
01 – Riches To Rags
02 – Not Supposed To Sing The Blues
03 – Firebox
04 – Bag Of Bones
05 – Requiem
06 – My Woman My Friend
07 – Demon Head
08 – Drink And A Smile
09 – Doghouse
10 – Mercy You Mercy Me
11 – Bring It All Home
12 – Beautiful Disaster (Japan Bonus Track)
Joey Tempest (Vocals)
John Norum (Guitars)
John Leven (Bass)
Mic Michaeli (Keyboards)
Ian Haugland (Drums)
Joe Bonamassa (guest Guitar)
Out Of Print
www.cdjapan.co.jp/product/VICP-65047
.