ROTH BROCK PROJECT – ST (2016)
What would you expect if you join extremely talented singer such as Terry Brock (Strangeways, Giant) and a very gifted musician like John Roth (Winger)? The answer is simple: a damn fine collection of some killer melodic rock tracks, luxury vocals and excellent musicianship. That's what you will get from ROTH BROCK PROJECT and their self-titled debut to be released by Frontiers Music.
The sound indeed is classic melodic rock with some hard rock moments in the vein of Winger, Night Ranger and Giant with sharp&clean guitar riffs and Brock's passionate vocals.
With opener "Young Gun" we have the first highlight of the new album. A straight-forward melodic rocker that includes Roth's high skilled abilities, a chorus to sing-a-long all day and great arrangements.
The groovier "What's It To Ya" is a very good tune with heavier guitars while "Young Again" brings back memories from bands such as Night Ranger and Giant with an excellent pre-chorus / chorus.
The overall Roth Brock Project sound is really smooth and with a classy melodic rock approach, but with a hint more technical than the average band in the genre.
This results into a quite stylized output.
With "I Don't Know Why" we have a nice mid-tempo song with a lot of power in it, and in "Fighter" the boys are delivering a cool commercial rocker. The AOR-ish "My City" will please all Strangeways fans while in "Never Givin' Up" we are dealing with a great bluesy ballad where Brock vocals shine and the guitar solo is huge.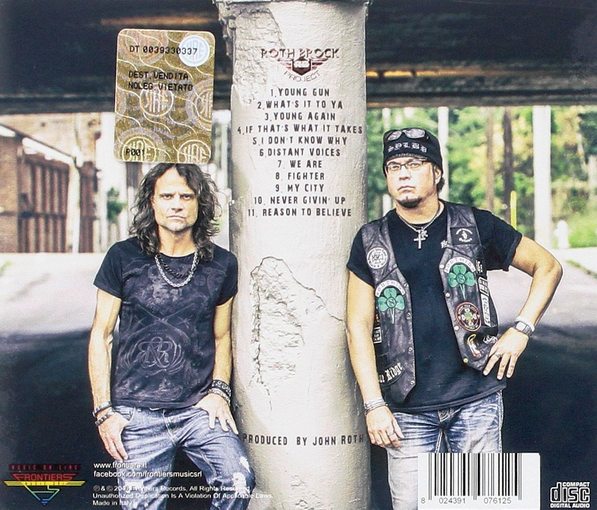 Roth / Brock collaboration brings back the sound of the late '80s melodic hard rock scene with a more updated, fresh approach, and the result is this extremely melodious record. Excellent musicianship, solid performances and some killer tunes indeed.
HIGHLY Recommended
01. Young Gun
02. What's It to Ya
03. Young Again
04. If That's What It Takes
05. I Don't Know Why
06. Distant Voices
07. We Are
08. Fighter
09. My City
10. Never Givin' Up
11. Reason to Believe
Terry Brock: Lead and Background Vocals
John Roth: Guitars, Bass, Keys, Lead & Background Vocals
Scott Trammell: Drums, Percussion
Additional Musicians:
Kary Baddour: Piano on "Distant Voices"
Phil Bennet: Keyboards on "Never Givin' Up"
Jeff Adams: Background Vocals on "We Are"
Kory Myers: Background Vocals on "We Are"
Jimmy Fulp: Drums on "Fighter"
PRE ORDER
www.emp-online.com/art_342959/
.