MOTLEY CRUE – The End: Live In Los Angeles (2016)
Today October 4th is the world-wide release of "Mötley Crüe – The End: Live in Los Angeles". On December 31, 2015, legendary hard rock icons Mötley Crüe completed their 35-year touring career as a band with a spectacular final concert at Staples Center in their hometown of Los Angeles, CA, just 10 miles from the Sunset Strip where the band's infamous and decadent career first launched.
That memorable show is chronicled on "The End: Live in Los Angeles", available in several different configurations including Blu-ray+CD, DVD+CD, vinyl LP and digital formats.
The setlist included their most iconic songs like "Girls Girls Girls," "Looks That Kill," "Dr. Feelgood, " "Kickstart My Heart," and more.
Musically the band is in very good form, although Vince Neil sings a bit sloppy from time to time. However his vocals were enhanced in post-production resulting fine overall, helped by the recorded backing tracks used in the show. It's getting tougher to find many classic rock bands these days who don't play backing/harmony tracks during their live shows, so it's ok.
Mick plays all the songs within his ability, Nikki is plenty energetic and plays solid, and Tommy can still hit hard and keep good time.
When a band announces a farewell tour, there is deserved skepticism. After all, many have done several farewell tours, only to return to the road at a later date. Mötley Crüe went an extra step, signing a binding legal document preventing them from touring under the band's name past the year 2015.
After traversing the world one last time, the band wrapped things up with this very good show.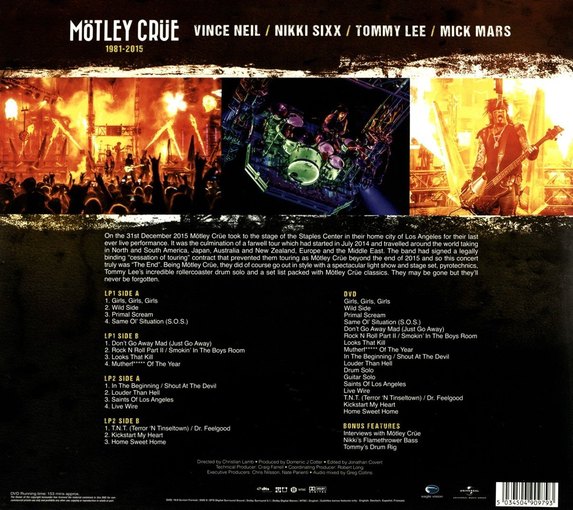 Motley Crue lived the rock 'n' roll lifestyle to the fullest, and their shows have always been spectacles. That was definitely the case during "The End: Live in Los Angeles". But being their final show, there were many other emotions not usually on display during a Crue concert.
A great time was had by all, but feelings of nostalgia, sadness, appreciation and love were also part of the experience. After 35 years, if this indeed was the end, Motley Crue went out with a bang, which seems appropriate.
It's a great live release and one that Motley Crue fans really need in their collections.
01 – Intro
02 – Girls, Girls, Girls
03 – Wild Side
04 – Primal Scream
05 – Same Ol' Situation (S.O.S.)
06 – Don't Go Away Mad (Just Go Away)
07 – Rock N Roll Part II / Smokin' In The Boys' Room
08 – Looks That Kill
09 – Mutherfucker Of The Year
10 – Medley In The Beginning / Shout At The Devil
11 – Louder Than Half
12 – Saints Of Los Angeles
13 – Live Wire
14 – T.N.T. (Terror 'N Tinseltown) / Dr. Feelgood
15 – Kickstart My Heart
16 – Home Sweet Home
Vince Neil – vocals
Tommy Lee – guitar
Nikki Sixx – bass
Tommy Lee – drums
BUY IT !
www.amazon.com/End-Live-Los-Angeles-Blu-ray/dp/B01LQV37AG
.