DEEP PURPLE – Time For Bedlam EP (2017) Worldwide Premiere
0dayrox is pleased to present in exclusive DEEP PURPLE's new EP "Time For Bedlam". The newest album from English hard rock legends DEEP PURPLE titled 'inFinite' will be released in April. But these old boys don't want to make us wait that long, so they're releasing the EP "Time For Bedlam" in February with previously unreleased songs that aren't available on the album.
A must for every fan!
"Time For Bedlam" is an up-tempo classic Deep Purple song and the first glimpse of the upcoming album 'inFinite' that follows the successful 'NOW What?!' A typical Purple of the 21 century: bluesy guitar, singing which is pleasant to listen to and hard rock beats.
But this Limited Edition EP also features non-album songs and unreleased recordings.
The B-side "Paradise Bar" (non album track) is a brand new recording that resulted from the album rehearsals and recordings, a song plenty of groove and Gillian's great vocals.
NOW What?!'s track "Uncommon Man" can be found as instrumental version, highlighting the beautiful melody and intricate arrangements. Love the keyboards here.
To round off the 4-track EP, there's "Hip Boots". The final version will be found on the upcoming album, but the EP includes a special instrumental rehearsal version that was recorded by no other than Ian Paice himself. It brings to mind heyday classic Deep Purple.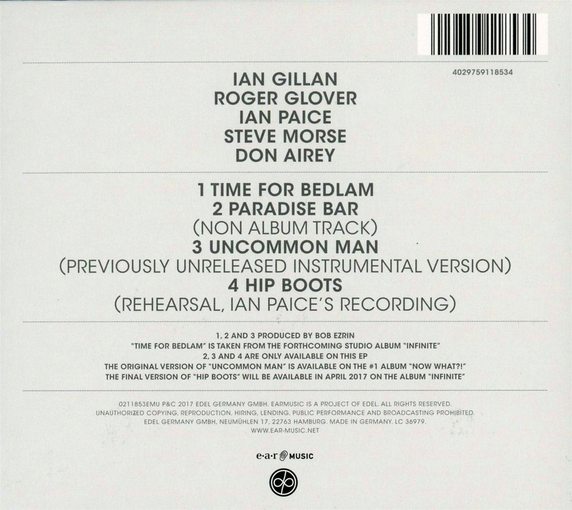 "Time For Bedlam", as well as the album, has once again been produced by Bob Ezrin who has formed with the five members of Deep Purple an explosive songwriting team.
Can't wait the full length album. Meanwhile, enjoy this really good EP.
You've seen it first here, at 0dayrox
1. Time for Bedlam
2. Paradise Bar [Non Album Track]
3. Uncommon Man (Prev. Unreleased Instrumental Version)
4. Hip Boots (Rehearsal, Ian Paice's Recording)
Ian Gillan – vocals, harmonica, percussion
Roger Glover – bass, vocals
Ian Paice – drums, percussion
Steve Morse – guitar
Don Airey – keyboards
BUY IT !
www.emp-online.com/art_349424/
.