MARILLION – Singles Night [Greatest Hits Live 2CD]
Alongside the recently featured here 'Marbles In The Park', "Singles Night" is another new MARILLION 2-CD release recorded at the Marillion Weekend at Center Parcs, Port Zelande, Netherlands, 22 March 2015.
During the "Singles Night" Marillion recorded live all their greatest singles and more well known songs with a new approach.
Included are the most successful single, the timeless classic 'Kayleigh', as well as 'Lavender', 'Warm Wet Circles', 'Hooks on You', and 'The Uninvited Quest' among other gems.
I really enjoyed all these new versions showcasing how Marillion sounds today and how these well known songs get new life in this new Century.
One of my favorite Marillion songs, 'Incommunicado', is one of the highlights as lead singer Steve Hogarth has performed it with a very personal touch.
However, all versions are faithful to the originals and with a reduced running time, respecting the 'single length'.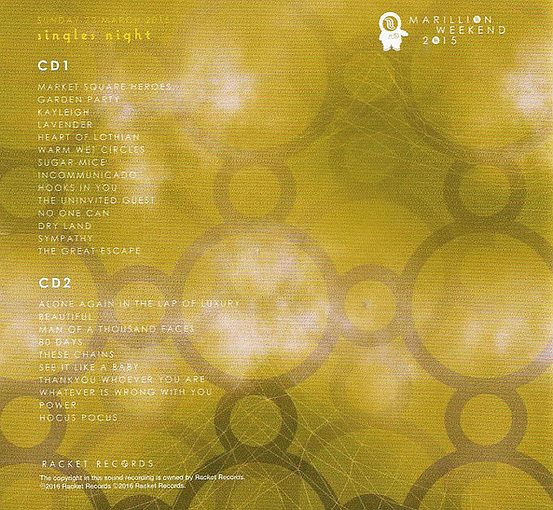 Only available via the band's website, "Singles Night" is a must have for Marillion fans, but also highly recommended to general listeners who only want the band's most known songs.
All all wonderfully re-done with the band's current sound – which is awesome, by the way – Marillion is at the top of their game now.
Highly Recommended
DISC 1:
01 – Market Square Heros
02 – Garden Party
03 – Kayleigh
04 – Lavender
05 – Heart of Lothian
06 – Warm Wet Circles
07 – Sugar Mice
08 – Incommunicado
09 – Hooks on You
10 – The Uninvited Quest
11 – No One Can
12 – Dry Land
13 – Sympathy
14 – The Great Escape
DISC 2:
01 – Alone Again in the Lap of Luxury
02 – Beautiful
03 – Man of a Thousand Faces
04 – 80 Days
05 – These Chains
06 – See It Like A Baby
07 – Thank You Whoever You Are
08 – Whatever Is Wrong With You
09 – Power
10 – Hocus Pocus
Steve Hogarth – vocals, guitar, keyboard, percussions
Steve Rothery – guitar
Ian Mosely – drums
Mark Kelly – piano, keyboards
Peter Trewavas – bass, backing vocals
BUY IT !
www.marillion.com/shop/albums/singlesnight.htm
.