AIRBOUND – Airbound (2017)
Today we are presenting in exclusive the self-titled debut of AIRBOUND, a new Italian AOR band. The CD is scheduled for release on September 15th, via Art Of Melody Music / Burning Minds Music Group.
"Airbound" represents these 5 musicians love for classic AOR / Melodic Rock music, shown through ten splendid tracks influenced by the likes of Journey and Survivor, but updated with a more contemporary and personal sound.
To ensure smooth studio performances and also an international dimension to their debut, Airbound involved in it as special guests the likes of Sven Larsson (Street Talk, Room Experience), Davide "Dave Rox' Barbieri (Wheels Of Fire, Charming Grace, Room Experience), Mario Percudani (Hungryheart, Shining Line, Ted Poley), and Josh Zighetti (Hungryheart, Charming Grace), who brought their experience and technical skills in order to perfectly complete a smart and focused melodious album.
Opening track 'Have a Good Time' introduces itself with a Survivor-esque keyboard refrain and a gorgeous chorus. It's a great start, and luckily the quality doesn't dip throughout the rest of the album.
Second track 'The Sun Tomorrow' features a great solo from Lorenzo Foddai and a sing-along section reminiscent of Bon Jovi, but the craft of the song is unmistakably European.
'Til the End' is harder with a foot in melodic hard rock territory. Coming on a little bit like UK rockers Vega, it's guitar driven stuff of very high quality indeed, with vocalist Tomás Borgogna Ugarteburu providing a great performance and Foddai supplying another wonderful solo.
Next up is 'You Live and You Learn', a wonderful AOR tune with upbeat bass lines and synths galore. The chorus is infectious with some Europe circa 1988 and why not, Da Vinci. Love it!
'Don't Fade Away' is another melodic rock highlight, which again features some excellent keyboard contributions from Alessandro Broggi (this time piano & synths) in a pure Journey fashion.
Every AOR album needs a big power ballad, and Airbound's comes in the shape of the terrific midtempo, slow-burning 'Zhaneta', wherein the band throw every trick in the melodic rock playbook at a song which brings to mind latter-day Journey and Lionville, and is a really fine piece of dynamic songwriting. Great one.
'Runaway' is heavier, and whilst it sounds nothing like the Bon Jovi song of the same name there are elements of New Jersey's finest on it, sounding as it does like an offcut from the 7800° Fahrenheit.
Next up is the superbly pompous 'Wasted World', a giant, gargantuan piece of AOR melodic rock majesty that covers all the bases required by fans of this kind of music. Dramatic, superbly executed and with an unexpectedly left-field yet undeniably winning chorus, it's the best song on an album full of great songs. Awesome composition.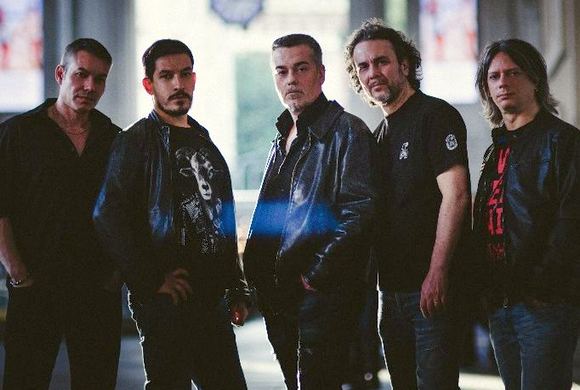 'She's a Girl' is pure, early Eighties American melodic rock reborn, opening with a swirling keyboard fanfare that'll bring a smile to your face, and backing that up with a quite superb chorus.
Final track 'Seven Seas' brings matters to a close with a very good melody and harmonies reminiscent of Tyketto or The Storm.
Wow, I am sold with Airbound's debut. This is pure '80s AOR folks… One of the best albums this year – I'm saying unadulterated AOR. Believe me.
Fans of Journey, Survivor, Lionville, Wild Rose, etc… You NEED this one.
AWESOME AOR 2017
You've seen it first here, at 0dayrox
01 – Have a Good Time
02 – The Sun Tomorrow
03 – Till the End
04 – You Live and You Learn
05 – Don't Fade Away
06 – Zhaneta
07 – Runaway
08 – Wasted World
09 – She's a Girl
10 – Seven Seas
Tomás Borgogna Ugarteburu – Lead and backing vocals
Lorenzo Foddai – Guitars and backing vocals
Angelo Sasso – Bass and backing vocals
Alessandro Broggi – Keyboards and backing vocals
Riccardo Zappa – Drums
guests;
Sven Larsson (Street Talk, Room Experience)
Davide Barbieri (Wheels Of Fire, Charming Grace, Room Experience)
Mario Percudani (Hungryheart, Shining Line, Ted Poley)
Josh Zighetti (Hungryheart, Charming Grace)
Pre Order:
www.amazon.co.uk/Airbound/dp/B074Q2TS5P
.