HELL IN THE CLUB – Devil On My Shoulder [Japanese Edition +1]
Italian hard rockers HELL IN THE CLUB just released their first album with major label Frontiers Music, and one of you asked for their previous "Devil On My Shoulder" in its Japanese Edition including the bonus track 'Never Too Late'.
Hell In The Club includes members of renowned acts such as Elvenking, Death SS and Secret Sphere, but their music stands out as something totally different: they mix classic US hard rock and modern sounds, hair metal, party songs and anything in between.
With "Devil On My Shoulder", Hell In The Club tosses you into their time machine, propels backwards in time, and drops you off on the Sunset Strip in 1987.
However, this record essentially delivers killer melodic hard rock songs, with a little edge and a twist of L.A. sleazy hair metal, all pretty anthemic, foot-tapping and melodic. And they're pretty darn good at it.
Every song is big on melody, harmony and groove with catchy hooks in both lyrics and arrangement.
The rhythm section delivers a consistent rock groove and beat, the riffs bristle and the solos soar. The vocal harmonies are smooth, and vocalist Davide 'Dave' Moras got that 'feeling' necessary for this classic genre.
This monster of an album opens on "Bare Hands", a song with so much variety that you're left pretty bombarded with all the levels of glam-rock and hair metal. It begins with a thumping intro full of guitar squeals which then leads into a verse that's at least 70% Van Halen-esque, before clashing fantastically with the sweeping, pure old school sound that is the chorus. It's an absolute gem of a track to start on, managing to really grip you as it forces it's way into the rest of the album.
One of my favorites from the CD should be the follower, title track "Devil On My Shoulder", a terrific melodic hard rocker with sharp guitar riffs and a brilliant chorus.
"Beware Of The Candyman" is all real fun akin the very first G N' R, then the album then drifts into its single release "Proud", a more midtempo track in the vein of Danger Danger. It's a song all about living your life's dream and being damn proud to do it. As a live track, this would be a great centre piece with some parts, such as the late-song guitar solo, perfect for one of those 'lighter in the air, arms waving' kind of moments.
"Whore Paint" is another highlight, pulling zero punches and not caring at all. It's a fast paced riot of sound in the Skid Row avenue, complete with shredding, chugging guitars, booming drums and even some chants of "hey, hey!" and "whoa, whoa!" that'll make you want to join in every single time. It's a magnificent homage to the genre as a whole, and it hits all of the right places.
"Pole Dancer" is of a similar vein, starting with some solo drums and building up in an intro that doesn't slow down at any point, launching fast and furiously into the rest of the song. It's an exercise in endurance for Hell In The Club, and is skillfully delivered.
"We Are the Ones" is a semi-ballad but the one with balls which reminds you the first Reckless Love (when they used to rock hard), plenty of harmonies in the chorus.
The next track "Save Me" then mixes things up, turning previous formula on their head by opening with a funky, chugging intro which leads flawlessly into another fast paced hard-hitter.
And there's much more to enjoy; the shuffle hair metal of "Toxic Love", the '80s Bon Jovi-esque ballad "Muse" and the melodic hard rock bliss of "No Nore Goodbyes".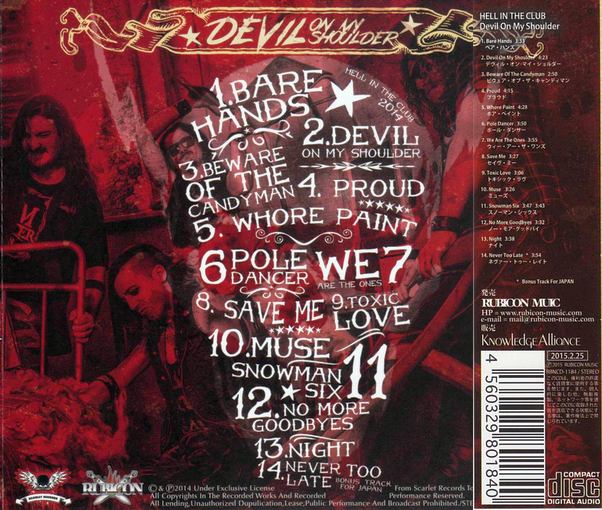 "Devil On My Shoulder" definitely has surprised me. It's a killer Melodic Hard Rock inspired by the true '80s tradition but with a big, energetic modern sound. All songs kick ass and there's much to be said for consistency mated with good songwriting and musicianship here.
Hell In The Club are on par with top-notch acts like Danger Danger, Van Halen, Skid Row, White Widdow, etc, and it's clear why Frontiers Music sign-up the band after listening to this album.
Highly Recommended
01 – Bare Hands
02 – Devil On My Shoulder
03 – Beware Of The Candyman
04 – Proud
05 – Whore Paint
06 – Pole Dancer
07 – We Are The Ones
08 – Save Me
09 – Toxic Love
10 – Muse
11 – Snowman Six
12 – No More Goodbyes
13 – Night
14 – Never Too Late (Japanese Bonus Track)
Dave – Vocals
Picco – Guitar, Backing Vocals
Andy – Bass, Backing Vocals
Fede – Drums
BUY IT !
www.cdjapan.co.jp/product/DAKRBNCD-1184
.