DELTA DEEP – Delta Deep [Frontiers Music release] (2018)
From the Frontiers Music January 2018 release batch here's DELTA DEEP self-titled debut, Def Leppard's guitarist Phil Collen side band, a super-group featuring terrific singer Debbi Blackwell-Cook, Stone Temple Pilots bassist Robert DeLeo and drummer Forrest Robinson (Toto live band), featuring stellar guests such as Whitesnake's David Coverdale, Paul Cook (Sex Pistols) and Joe Elliott (Def Leppard).
Delta Deep's debut features a mix of covers and originals, and stylistically it isn't confined to any one genre, however it's a strongly blues-infused material with some electrifying moments.
The CD begins with the enticing rock-fueled 'Bang the Lid,' which features a jolting introduction that mixes compelling guitars and percussion. The track's vocals are then dynamically jump-started with the strong and intense lyrics from Blackwell-Cook, a superb singer. It's very uptempo with a stomping bass drum beat from Forrest Robinson with added handclaps and some cool bass. A song impossible to listen to without tapping your feet.
'Whiskey' is quieter, a slower song but not a ballad, full of bluesy atmospheres. The album's third entry, 'Down in the Delta,' reverts back to the group's classic hard-rock guitar introduction, energetic and moving.
'Treat Her Like Candy' is an interesting blues-infused rock song that features a calming electric guitar and bass line, where Blackwell-Cook passionately duets with Collen on lead vocals.
'Miss Me' features a dynamic, hard-rock drum and guitar beat that's reminiscent of Collen's other side band Manraze, and why not, Def Leppard. Delta Deep's two lead singers emotionally reveal that they'll miss each other when they're gone from each other's lives. The song is a nostalgic tribute to classic hard-rock love songs from the '80s, but with a twist.
The record's next track, 'Burnt Sally,' features the first guest in the form of Jeffery "CJ" Vanston on Hammond B3 Organ. Phil's bluesy playing is great on this track, and Robert Deleo provides solid deep bass lines.
David Coverdale shares vocals with Blackwell-Cook on 'Private Number', a soul classic written by William Bell and Booker T. Jones. Originally, Collen had his eye on having Coverdale contribute vocals to their version of Deep Purple's Mistreated, but those plans were revised once he learned that Coverdale had already recorded a new version of the song for his own album.
But the legendary singer wanted to be a part of the project and suggested that they give 'Private Number' a shot.
I hadn't heard Coverdale sing like this for years, very soulful, like in the very early Whitesnake records, or in the underrated Restless Heart album. His vocals were recorded pretty straight, appropriately raw without any added effects. Great version and an album's highlight.
The next several songs on Delta Deep, including 'Shuffle Sweet,' 'Black Coffee' (featuring Simon Laffy which Collen played in the band Girl before Def Leppard) and 'Feel It,' deliver more enthralling rocking vocals. The tracks also emphasize their captivating instrumentals, including moments of up-tempo guitar notes that are set against gritty bass and drums.
Then the band covers Deep Purple's classic 'Mistreated'. There's a great guitar work by Collen, the rhythm section is stupendous, and the vocals are shared between Blackwell-Cook and Def Lepp's Joe Elliott. Joe does a nice part, but Blackwell-Cook blows him out of the water.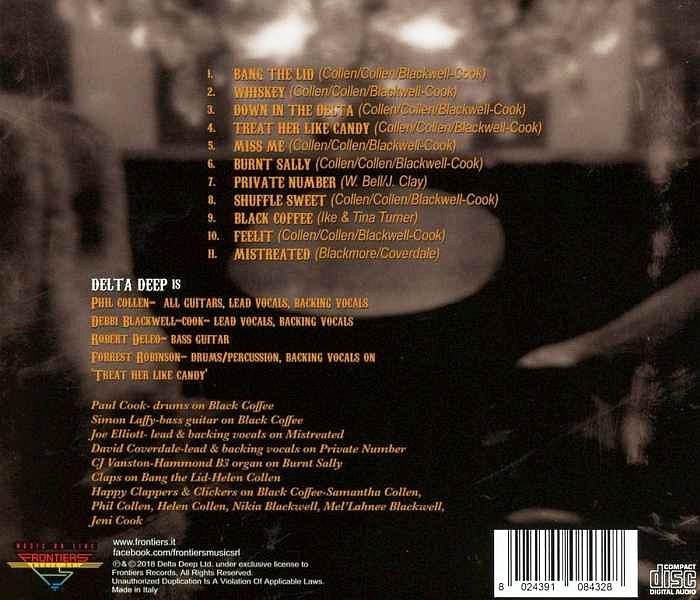 Delta Deep is a project made up of some rock and roll super stars to create music that revives an appreciation for classic rock, rocking blues and traditional hard rock. I think the mission is more than accomplished.
I would say this is album will surprise many people, especially anyone who thought it would feature a lot of very traditional or old sounding blues songs. Instead this is very much a Rock album but with more of a pop / melodic sound mixed in with the obvious blues / soul / funk influence. A couple of blues song included and lots of lead vocals from Debbi Blackwell-Cook who has an amazing voice, but there is plenty of Phil collen in here too.
It is different enough to be nothing like Def Leppard but not different enough that it won't appeal to Def Leppard and Manraze fans alike. It rocks, the musicianship is first rate, and production, handled Phil Collen, is crisp crystal clear, perfectly mixed & mastered by expert Ronan McHugh.
Highly Recommended
01. Bang the Lid
02. Whiskey
03. Down In the Delta
04. Treat Her Like Candy
05. Miss Me
06. Burnt Sally
07. Private Number (feat. David Coverdale)
08. Shuffle Sweet
09. Black Coffee (feat. Paul Cook & Simon Laffy)
10. Feelit
11. Mistreated (feat. Joe Elliott)
Phil Collen – Guitars, Vocals (Def Leppard)
Debbi Blackwell-Cook – Vocals (Luther Vandross)
Forrest Robinson – Percussion, Drums (Toto)
Robert DeLeo – Bass (Stone Temple Pilots)
Special guests:
David Coverdale (Whitesnake) – vocals
Paul Cook (Sex Pistols) – drums
Simon Laffy (Girl) – bass
Joe Elliott (Def Leppard) – vocals
Jeffery "CJ" Vanston (Toto) – Hammond B3
BUY IT !
www.amazon.co.uk/Delta-Deep/dp/B0776K3ZZC
.