JADED HEART – Devil's Gift [Ltd. Digipak +2] (2018)
German / Swedish rocking combo JADED HEART are ready to release their new album "Devil's Gift" on March 30 via Massacre Records, with this Limited Digipak including two exclusive bonus tracks.
The album was produced by the band and once again mixed & mastered by the band's long time friend Erik Martensson (W.E.T., Eclipse, Nordic Union).
Indeed , you can hear Martensson's touch here, and as he does with his killer band Eclipse, on "Devil's Gift" there's a blurring genre lines, and Jaded Heart delivers melodic metal with the accessibility of a hard rock groove. This includes blending melody and harmony in the arrangements from twin guitars and clean vocal arrangements, fierce and fiery guitar solos, a touch of synths, and power and groove from the rhythm section.
The first four tracks of "Devil's Gift" are a rollercoaster of hooks and swelling choruses. But just when you think you know what to expect, 'Tears of Our World' enters.
'Tears of Our World' is a real gem, for while most of the songs on this album bounce – this one stomps and tumbles, like a brick in a washing machine. This track also heralds a change in the album's direction, as it is followed by 'Phoenix' a song with easily one of the most memorable choruses on the album, and 'One World', an aggressive and dirty sounding rocker with an empowering chorus.
The album regular version concludes with 'Final Moment,' a more somber song that highlights bassist Michael Mueller skills mixed with fine guitars. It's also nice to hear Johan Fahlberg's voice explore a deeper range as he does in this track, which fade out with a lovely twin guitar melody.
Digipak bonus tracks are 'Black Days', a very groovy hard rocker with a great vibe and stadium-ready choruses.
The other is titled 'Flying High' which starts with synths and then evolves into a midtempo hard rocker which somehow reminds me of Khymera or early Axel Rudi Pell. The swirling keys continue throughout the song, one of the best on the CD and a shame not present in the regular release.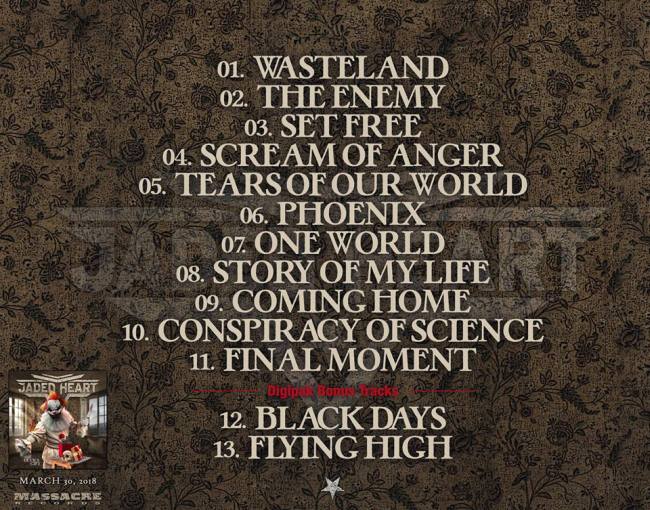 "Devil's Gift" is a new assassin record from this now veteran, experienced band. Jaded Heart knows what they're about and they approach their craft with confidence and delicacy. Every track has what you would expect, and yet every track has a little something different.
They mix metal with melody, catchiness with groove like few does in the current scene. Think Eclipse with a more metallic feel at places, but the same hooks.
"Devil's Gift" is an absolutely stunning release – besides the cover art, which is atrocious (c'mon guys, it's 2018).
HIGHLY Recommended
01 – Wasteland
02 – The Enemy
03 – Set Free
04 – Scream of Anger
05 – Tears of Our World
06 – Phoenix
07 – One World
08 – Story of My Life
09 – Coming Home
10 – Conspiracy of Science
11 – Final Moment
digipak bonus tracks:
12 – Black Days
13 – Flying High
Johan Fahlberg (vocals)
Peter Östros (guitar)
Michael "Muelli" Müller (bass)
Bodo Stricker (drums)
Masa Eto (guitar)
PRE ORDER:
www.amazon.de/DevilS-Gift-Ltd-Digipak-Jaded-Heart/dp/B0794Y2CRQ
.