TERI TIMS – Teri Tims [Z Records remaster +3 exclusive bonus]
Recorded several years ago and initially an indie / self-managed release, the album by American female singer TERI TIMS was finally out on Z Records. This remastered reissue was delayed, changed its working title twice, and at the end they opted for "Teri Tims".
"Teri Tims" is being reissued by Z Records because of her husband; Paul Sabu, who already made a partnership with the label some time ago to manage his catalog.
OK, But she can sing?
Oh yes she can. And very well.
In fact, many of these songs appeared more than 15 years ago via an obscure German label release under the title 'Teri Tims – Whole Lotta Trouble'.
But now Paul Sabu (who produces, co-writes and play on the record) decided to re-arrange / re-master the whole thing, discard some songs, add new ones, and give it a proper packaging.
So, many of the tracks here were recorded several years ago.
Teri has the pipes, without a doubt, with a vocal colour that can be described as a combination of Robin Beck, Alannah Myles and Debbie Davis (of cult AOR band Witness), and I might add that she has got the looks to match too…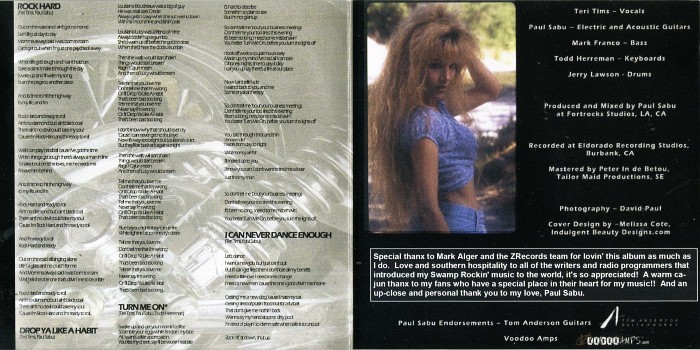 There's strong melodic rockers such as "Rock Hard" (very '80s Sabu-like), the jumpin' "Drop You Like A Habit" and the atmospheric "Roll Dem Bones", mixed with more poppy radio friendly tunes like "Turn Me On" which somehow recall Shania Twain (not strange as Sabu produced Twain material long time ago).
Of course we have a bunch of AOR songs as well, like the Witness-sounding midtempo "Out Of Control", the quite rocking "Bad Love" featuring a hot Sabu guitar solo, or the great ballad "Home Is Where The Heart Is" (ala Fiona).
But my definitive highlight should be "Midnight In Your Eyes", a pure '80s styled AOR rocker with all the melody and magic from the golden decade.
But 0dayrox always gives you more.
As bonus, there's the 3 discarded songs for this reissue, all 3 appeared in the initial German release 'Teri Tims – Whole Lotta Trouble'.
'Heaven Knows' is a very smooth midtempo with acoustic guitars into the mix, and Paul Sabu duets performing lead vocals all over the tune. Great song.
The catchy 'When Love Goes To War' is surrounded by cool synths and varied Sabu guitar work (there's lots of layers) and Tims' vocals brings to mind Robin Beck. 'Childlike Faith' is more poppy in a second half of the 80s vein with acoustics into the mix.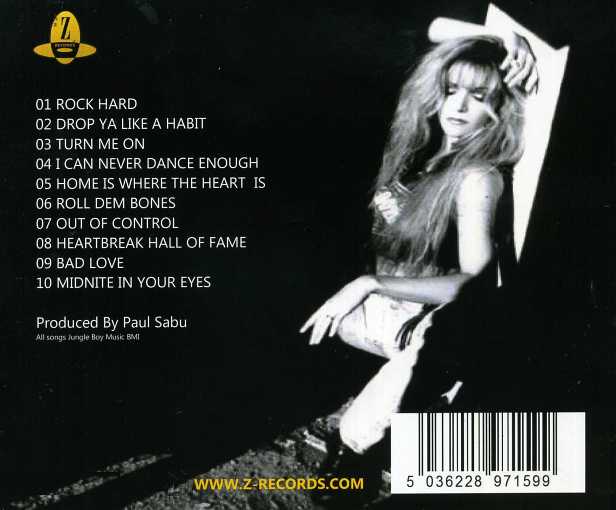 Teri Tims' vocal work is is charming all over the record, delivered with class and style. The songs are well constructed, melodic, catchy and with nice hooks when needed, especially the uptempo tracks.
Paul Sabu's guitar work is at the service of the songs (this is her wife's record and the vocals are upfront) but he finds space on a couple of tracks to drop scorching solos. Production could be more punchy, particularly on the songs featuring programmed drums (the others are ok, played by ex-Hydrogyn Jerry Lawson).
Fans of late '80s female fronted AOR / Melodic Rock need to grab "Teri Tims", a very cool pack of songs in the true tradition of the genre with that unmistakable Paul Sabu flavor. And you have that extra, collectible songs.
Highly Recommended
only at 0dayrox
01 – Rock Hard
02 – Drop You Like A Habit
03 – Turn Me On
04 – I Can Never Dance Enough
05 – Home Is Where The Heart Is
06 – Roll Dem Bones
07 – Out Of Control
08 – Heartbreak Hall Of Fame
09 – Bad Love
10 – Midnight In Your Eyes
0dayrox exclusive BONUS TRACKS:
11 – Heaven Knows
12 – When Love Goes To War
13 – Childlike Faith
Teri Tims (vocals)
Paul Sabu (guitars, bass, vocals)
Todd Herreman (keyboards, synths, programming)
Mark Franco (bass)
Jerry Lawson (drums)
BUY IT !
www.amazon.co.uk/Teri-Tims/dp/B007MWRPVQ
.