TUFF – The Glam Years 1985-1989 [remastered]
To celebrate their 30th Anniversary Hollywood glamsters TUFF released "The Glam Years 1985-1989", including the very rare early TUFF recordings featuring vocalist Jim Gillette, plus a 'Glam Remaster' of material recorded later with frontman Stevie Rachelle.
TUFF was founded by bassist Todd Chaisson and Jorge DeSaint (guitar). After a few early line up changes, Chaisson and DeSaint settled in with Michael Raimondo on drums and Jimmy L'Mour (Jim Gillette) as the band's voice.
Originally based in Phoenix, Arizona, Tuff moved to Los Angeles in the fall of 1986.
That same year they released their official debut with 'Knock Yourself Out' via Tuff Muff Music Inc. That EP was a cassette only release, and now those tunes among others are available for the first time ever on CD.
There's also two tracks previously unreleased from that sessions.
In the spring of 1987 L'Mour himself left the band, reverted to his real name Jim Gillette and released his solo album 'Proud To Be Loud' before forming Nitro with shredder Michael Angelo Batio.
TUFF then added Wisconsin native Stevie Rachelle to front the band. Chaisson shortened his name to Chase and Raimondo became Lean – the classic era of TUFF was officially born.
Here wa have the very firsr tracks recorded with Rachelle; "Round 'Em Up", the melodic "Summertime Goodbye, "Want Trouble – You Got It", all done in 1988.
The rest were taped in 1989 before the band got signed by Atlantic Records.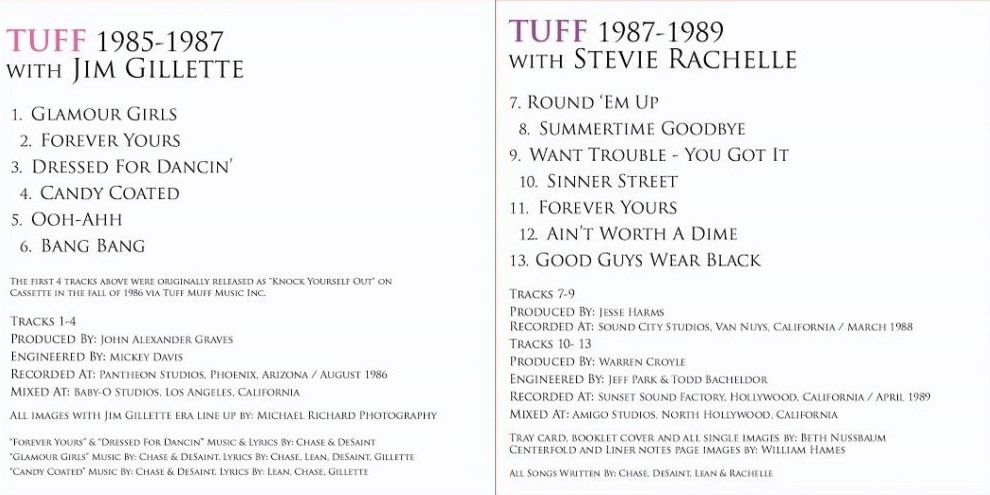 Looking back, the Gillette era was roughly a year together. The style of these tracks are raw and angry, with a sleazy dirty attitude.
Now a full 29 years later it's great to listen those early tracks – that have been remastered from original tape and sound really good – to check the 'real underground' Sunset Strip sound.
The material with Stevie Rachelle (tracks 7-13) are in the vein of the TUFF we all know, much more melodic & polished in the true late '80s Californian Hard Rock style.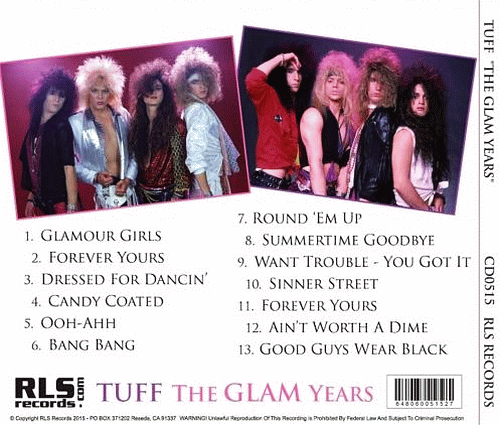 "The Glam Years 1985-1989" showcases all TUFF's official recordings from the '80s but when they still were an indie band, featuring both vocalists Gillette and Rachelle.
These are not only previously unreleased – or heard by few – material, but also owns some kind of magic, freshness to a band that was hungry for glory.
Highly Recommended
01 – Glamour Girls
02 – Forever Yours (1986 Mix)
03 – Dressed For Dancin'
04 – Candy Coated
05 – Bang-Bang
06 – Ooh Ahh
07 – Round 'Em Up (Glam Remaster)
08 – Summertime Goodbye (Glam Remaster)
09 – Want Trouble – You Got It (Glam Remaster)
10 – Sinner Street (Glam Remaster)
11 – Forever Yours (Glam Remaster)
12 – Ain't Worth A Dime (Glam Remaster)
13 – Good Guys Wear Black (Glam Remaster)
Jimmy L'Mour (Jim Gillette) – vocals
Stevie Rachelle – vocals
Jorge DeSaint – guitars, backing vocals
Todd Chase – bass, backing vocals
Michael (Raimondo) Lean – drums, backing vocals
BUY IT !
www.amazon.com/Glam-Years-1985-1989-Tuff/dp/B017E6SFV8
.