W.E.T. – W.E.T. [Japanese Edition +1] Out Of Print
After presenting the new W.E.T. album here, some of you asked for the band's 2 previous discs (must haves) in its Japanese Edition now out of print.
Few albums have created such a stir in the Melodic Rock world as this W.E.T.'s self-titled debut, with opinion divided on whether it is an absolute masterpiece or been over hyped.
All renowned musicians from the Swedish and international scene, W.E.T. or Robert Sall of Work Of Art, Erik Martensson of Eclipse, and Jeff Scott Soto of Talisman decided to join forces for this amazing project.
At the time of this first W.E.T album, perhaps the most well-known of the lot was Jeff Scott Soto, who has also spent time with Yngwie Malmsteen's band, Soul SirkUS, and even the gods of the genre, Journey.
One can't speak enough of Soto's vocal talents, he's one of the most underrated voices in any style of music. Equal parts Sammy Hagar, Chris Cornell, and Steve Perry; there isn't much Soto can't sing, and emote well while doing so.
The first track, "Invincible," has a calm intro before an explosion of riffs splits the speakers. Soto's voice combines soul, R&B, and funk influences with soaring, anthemic notes. The band is incredibly tight; the instruments weave in and out of one another while maintaining a punch. The guitars shift from heavy and surging to wafting and epic. Major props go out to the understated yet effective keyboard theme, and the fact that Soto's vocals sound especially "from the heart" on this record thus far.
Next, 'One Love' is equally impressive, packing a mighty, anthemic punch that would have filled stadiums back in the day, and will delight fans of JSS's earlier work with the likes of Talisman, Eyes and Takara.
'Brothers in Arms' has a very effective main riff. This song soars just as much if not more than the others before it. 'Comes Down Like Rain' does just that, a gentle shower of moody and moving lyrics from Soto. W.E.T. manages to keep an epic sound even in their first ballad of the record.
'Running from the Heartache' is another big up-tempo number with tasteful keyboards while guitars are big in melodic rock waves. I really do love 'I'll Be There' and its mix of Survivor, Soto's solo material, and the best of poppy melodic rock. The best solo of the record thus far shreds through the speakers halfway through the tune.
'Damage is Done' is yet another uptempo head-bobbing rocker, shifts in timing and lush harmonies keeping a fresh feel to the otherwise consistent mood of the record.
Songs like 'Put Your Money Where Your Mouth Is' prove that the boys in W.E.T. are having a little fun with this album. It's bluesier with more hard rock roots than the rest of the songs thus far. It wouldn't sound out of place on a modern Whitesnake or Winger record.
Another ballad comes in the form of 'One Day at a Time' in the vein of Journey's 'After the Fall'or Whitesnake's "Is This Love?", it's a dense song with a snappy flow. I love how the twin guitar solo is layered, and how the harmonies are mixed.
'Just Go' revisits some of the gnarliest Talisman rockers with its churning feel. The drumming is impeccable and I really can't say enough of the piercing guitar work. The keyboard is again wonderfully understated and accents the song.
'My Everything' revisits the feel of 'I'll Be There' and keeps your foot tapping to these relentless riffs, then 'If I Fall' is possibly the best song on the album, a mid-tempo AOR wonder with smooth guitar, thundering drums, tasteful piano, and then incredible vocals.
Japanese bonus track 'Comes Down Like Rain (Acoustic Remix)' work greatly as its fully electric, perhaps with more accent to the harmonies.
There's a great flow to this album, and should be listened to as an album despite the single-worthy qualities of the tunes.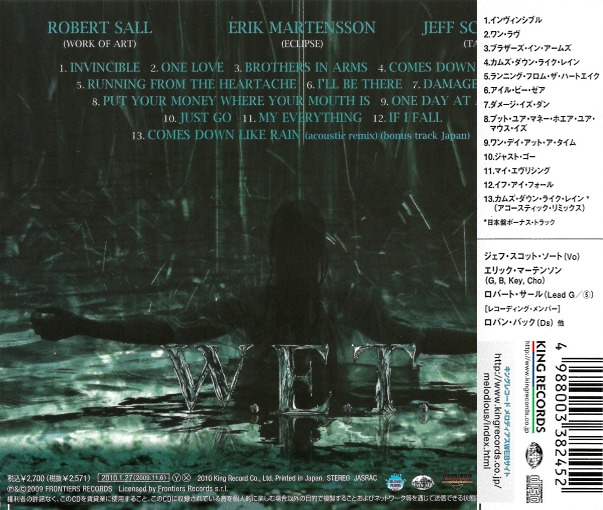 The Melodic Rock genre is packed to the brim with extremely talented instrumentalists. Martensson, Sall, and helpers Magnus Henriksson / Robban Back deserve their fair share of accolades and respect for what they've created here. It's a shame that great players like these guys are relatively unknown and unappreciated to the major public. And Soto, as usual, shines over it.
Production is top-notch; you can hear the instruments clearly. Authenticism isn't subtracted and there isn't any trickery, "W.E.T." just very well-recorded / mixed.
Easily, one of the best project / bands in the genre from the last thirty years.
A MUST
01 – Invincible
02 – One Love
03 – Brothers In Arms
04 – Comes Down Like Rain
05 – Running From The Heartache
06 – I'll Be There
07 – Damage Is Done
08 – Put Your Money Where Your Mouth Is
09 – One Day At A Time
10 – Just Go
11 – My Everything
12 – If I Fall
13 – Comes Down Like Rain (Acoustic Remix) [Japan Bonus]
Jeff Scott Soto: Lead Vocals
Erik Martensson: Guitars, Bass, Keyboards, Vocals
Robert Sall: Keyboards, Guitars
Robban Back: Drums
Magnus Henriksson: Guitars
Out Of Print:
www.cdjapan.co.jp/product/KICP-1451
.