WAR OF THRONES – Conflict In Creation (2018)
"Conflict In Creation" is the debut album from Americans WAR OF THRONES with Sonic Night Music Club Records. The powerhouse act, featuring former members of CRIMSON GLORY and ROB ROCK, is releasing today the album recorded a couple months ago by James Foxm, and mastered by Maor Appelbaum (HALFORD, ARMORED SAINT, FAITH NO MORE).
The core of the band is vocalist Wade Black, who for more than two decades has thrilled audiences worldwide fronting such metal bands as CRIMSON GLORY, SEVEN WITCHES and LEATHERWOLF.
His partner virtuoso guitarist Rick Renstrom entered the scene in 2000, joining vocalist ROB ROCK touring and recording band. Having toured around the world, Rick's incredible and inspiring guitar playing has been witnessed by thousands of people.
Black and Renstrom had worked together in LEASH LAW releasing an album in 2005, and then reunited again to shape WAR OF THRONES.
The line-up is rounded out by bass player Rich Marks (VIVALDI METAL PROJECT) and former YNGWIE MALMSTEEN skilled drummer Patrick Johansson.
So expect a booming rhythm section combined with virtuosic moving guitar lines and massive technical ability, plus some roaring vocals. Wade Black is unique singer. You like it or not, but you can't deny his originality.
Of course some of the material here sounds a lot like CRIMSON GLORY as heard in 'Creation', however the band shows many influences under the sleeve.
Of course ROB ROCK should be taken as comparison – just check the groovy midtempo 'Ascending' or the heavy ballad 'Descending' – but also the IMPELLITTERI catchiness in 'Savior' and 'Damnation'.
There's a touch of the heavier side of STRYPER on 'Entranced', while I hear some '80s JUDAS PRIEST in the punchy 'Rule The World'.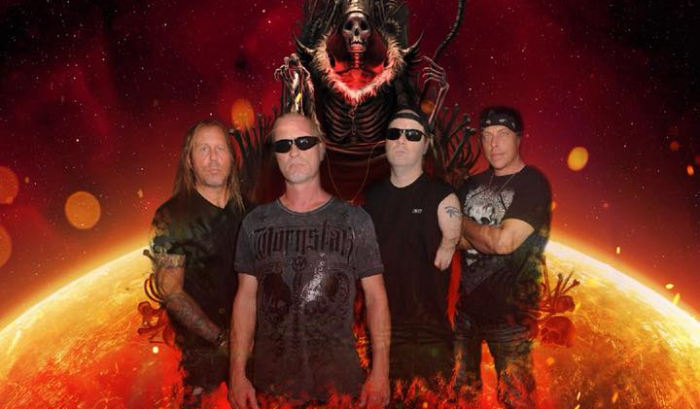 As you see, WAR OF THRONES "Conflict In Creation" is all about classic American Metal. It's '80s inspired but with a certain '90s pinch as well (think OZZY Nineties albums), all rounded by a modern production.
There's lots of razor-sharp riffs and solos, racing drumming at places – on others a groovy midtempo pace – and 'that' special vocals.
Despite the band's cheesy name – trying to capitalize the famous TV show popularity – WAR OF THRONES are a very strong, tight unit, and they write some very good 'ole classic US metal tunes.
Rocks
01 – Ascending
02 – Creation
03 – Savior
04 – Entranced
05 – Damnation
06 – Aftermath
07 – Say What
08 – Kingdom
09 – Rule The World
10 – Reaction
11 – Channeling Demons
12 – Descending
Wade Black (CRIMSON GLORY) vocals
Rick Renstrom (ROB ROCK) guitars
Rich Marks (VIVALDI METAL PROJECT) badd
Patrick Johansson (YNGWIE MALMSTEEN) drums
BUY IT !
www.amazon.com/Conflict-Creation-War-Thrones/dp/B0788XVVMF
.