IAN MOSS – Ian Moss (2018)
Australian guitar icon IAN MOSS is releasing today his new self-titled solo album, the first in nine years, and his first of all original material in 22 years.
Member / songwriter for Cold Chisel and respected as one of Australia's living legends, Ian 'Mossy' Moss delivers an unforgettable sound – not only as a telling soloist on guitar but especially with his silken voice, ringing with clarity and resonating with pure soul.
Founded in the late Seventies, the reputation and status of Cold Chisel steadily grew, mainly on the strength of blistering live shows, and in time their well-crafted recordings became staples of radio airplay. By 1980, with the release of the seminal 'East' album, Cold Chisel was the biggest band in the country.
Moreover, they defined a national sound – hard-driving rock chased by a shot of blues, lyrics depicting the Australian experience and resonating powerfully with young working class fans.
Enjoying the status of Australia's best guitarist, Moss carefully evolved into a solo artist of the same caliber and commanding the same respect as Cold Chisel.
Nearly 30 years on from his chart-topping solo debut Matchbook (1989) and more than 20 since his last collection of originals, Ian Moss rides again.
Working with Nashville-based Aussie songwriter Sam Hawksley and producer Peter Walker of Perth 70s hard-rock outfit Bakery, the Cold Chisel guitarist combines his soulful voice and supple fret-work across 11 classic rock songs imbued with snatches of soul, blues, r&b, etc.
It's also Mossy's most personal record yet. He co-wrote every song, aside from 'My Suffering', which was written by his Cold Chisel bandmate and dear friend Steve Prestwich, who died in 2011.
This is an Ian Moss solo record, but along with Steve's song, there are other little nods to Cold Chisel. Charley Drayton – who joined Chisel after Steve's passing – plays on 10 tracks.
And Don Walker's piano punctuates the rollicking 'A Girl Like You', which name-checks one of Chisel's favourite haunts when they moved to Sydney in the '70s.
Mossy's sublime playing – on his Fender electric and Maton acoustic – is as expressive as ever. "Sometimes the words are useless for what it is I'm trying to get across," he confides in 'Hold On (To What We Got)'.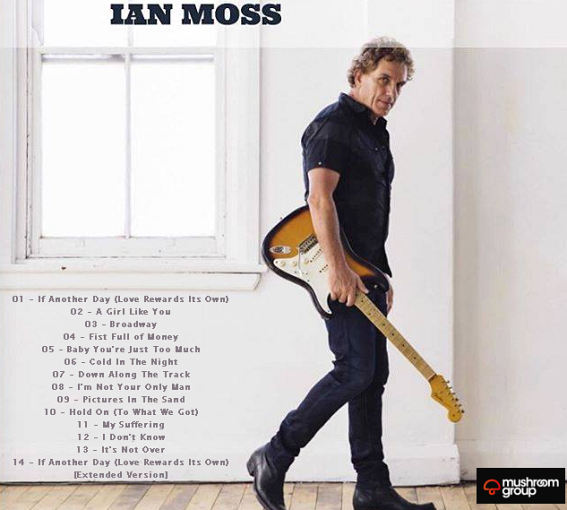 While primarily recognised as an axeman of unusual tenacity and sweet melodic sensibility, Ian's distinctive vocal is the essential signature of his soulful, bluesy muse – as it has been since his first tentative foray into music during the early 1970s.
It's no accident that this album is self-titled; this is pure classic Mossy. Fans of Cold Chisel, Jimmy Barnes, etc, and classic rock in general need to check out "Ian Moss".
Strongly Recommended
01 – If Another Day (Love Rewards Its Own)
02 – A Girl Like You
03 – Broadway
04 – Fist Full of Money
05 – Baby You're Just Too Much
06 – Cold In The Night
07 – Down Along The Track
08 – I'm Not Your Only Man
09 – Pictures In The Sand
10 – Hold On (To What We Got)
11 – My Suffering
12 – I Don't Know
13 – It's Not Over
14 – If Another Day (Love Rewards Its Own) [Extended Version]
Ian Moss – vocals, guitars, bass
Don Walker – keyboards, piano
Charley Drayton – drums
BUY IT !
ianmoss.com.au/store/
.