STAGE DOLLS – Commandos [digitally remastered]
STAGE DOLLS are one of the finest Melodic Rock / AOR bands Norway / Scandinavia produced in the '80s, and still continue creating superb music now. One of you asked for remastered versions of their albums, and the truth is the only digitally remastered is this "Commandos" which, in my humble opinion, is their finest moment.
"Commandos" is Stage Dolls second album, and the one where they started to shape their sound to appeal the US market, still retaining that classy Scandinavian AOR feel.
Apart from the catchy, elegant melodic nature of the songs, Stage Dolls found in exquisite producer Bjoern Nessjoe the key to create that characteristic ultra-precise, super-slick production sound. Nessjoe also shaped TNT's sound for the American market on their awesome Intuition album.
"Commandos" is pure '86 AOR magic.
All songs are real pearls: 'Heart To Heart' is an example of mid-Eighties perfect midtempo AOR, title track 'Commandos' has all that feeling of the era with a delicious chorus, there's great atmosphere in 'Yesterday's Rain', a lesson in smooth Melodic Rock can be found in 'Young Hearts', while 'Rock You' is a killer tune made for the arenas.
'Magic' offers some magic indeed, 'Who's Lonely Now' reminds me of British AOR from the era with, again, another top class chorus.
There's lots of elegance in 'America', and 'Don't Look Back' end the album with class.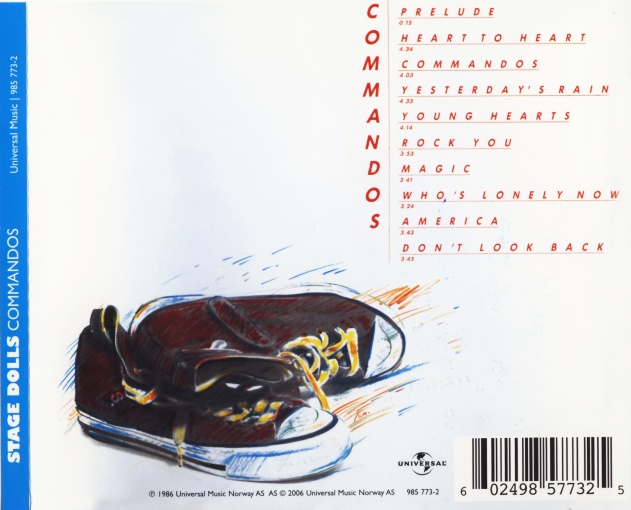 With their next, self-titled album (a very good one as well) Stage Dolls finally found success in the US, but "Commandos" always will be my favorite: it's so mid-80s.
For years impossible to find on CD, finally justice was done with this digitally remastered reissue, very well balanced and retaining the dynamics of the original recording.
A MUST HAVE
You've seen it first here, at 0dayrox
01 – Prelude
02 – Heart To Heart
03 – Commandos
04 – Yesterday's Rain
05 – Young Hearts
06 – Rock You
07 – Magic
08 – Who's Lonely Now
09 – America
10 – Don't Look Back
Guitar, Lead Vocals – Torstein Flakne
Bass, Vocals – Terje Storli
Drums – Steinar Krokstad
BUY IT !
www.amazon.de/Commandos-Stage-Dolls/dp/B000JRYPDW
.