STRYPER – Soldiers Under Command [Japanese first CD press]
STRYPER is alive and kickin' with their solid new 2018 album and one of you asked for remasters of their more celebrated '80s records. None of classic Stryper albums have been remastered with 'modern' technology / equipment.
Their first LP's received a 'vintage' Nineties remastering (beefed up gain only), and Michael Sweet did his own 'retouch' to To Hell With The Devil in 2000's. But nothing more.
Regarding Stryper's album "Soldiers Under Command" – which made the World take notice, and was the first Christian metal album to achieve Gold record status … which edition sound the best?
I always played my American vinyl LP original release, and it wasn't several years after that I purchased this Japanese first press CD copy.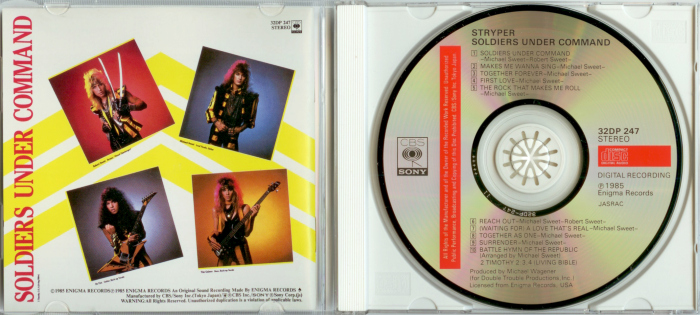 Honestly, I can't compare it with any other version simply because I am very happy with this CBS / Sony Inc. Japan original CD release in terms of sound / dynamics.
At the time, Japanese CD manufacturing was far superior in quality to any other part of the world.
So I think there's not much to say, this original Japanese edition of "Soldiers Under Command" sounds darn good, and musically the album is, at least, a cult classic.
Some of my favorite Stryper songs are included here, their first attempt to mainstream / melodic rock which would be perfected in albums to come.
Highly Recommended
01 – Soldiers Under Command
02 – Makes Me Wanna Sing
03 – Together Forever
04 – First Love
05 – The Rock That Makes Me Roll
06 – Reach Out
07 – (Waiting For) A Love That's Real
08 – Together As One
09 – Surrender
10 – Battle Hymn of the Republic
Michael Sweet – lead vocals, guitar
Robert Sweet – drums
Oz Fox – lead guitar, backing vocals
Tim Gaines – bass, keyboards, piano, backing vocals
additional musicians:
Christopher Currell – synclavier, guitar
John Van Tongeren – bass, keyboards, piano
Out Of Print
.