LEGS DIAMOND – Fire Power [Rock Candy remaster +11 bonus tracks] (2018)
Rock Candy Records has just remastered the first three LEGS DIAMOND albums, all with a large amount of bonus tracks. Let's start with the rocking "Fire Power".
The great leveller in life is the mysterious arrival of Lady Luck. You can carry on investing time, experience and energy in anything but without a well timed appearance by the grand dame of serendipity you might as well whistle in the wind.
That, unfortunately, was the case for Legs Diamond, one of the greatest, yet underexposed, hard rock bands of the Seventies. That they had the talent and the mandate to climb to the very heights of success, sadly, life decreed otherwise.
Having recorded two sensational albums for well heeled Mercury Records, the band were casually cast adrift when sales figures revealed unexpected and disappointing results.
The band were almost immediately signed up by independent label, Cream Records, who thought they knew a thing or two about hard rock.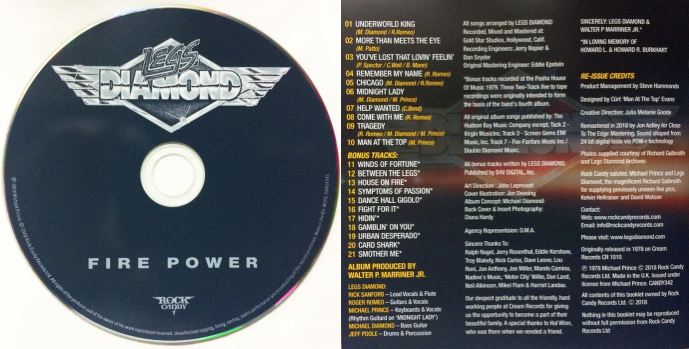 "Fire Power" actually received good promotion and contained arguably one of their greatest tracks, namely 'Underworld King', a song that further bolstered their reputation as the American comparison to Deep Purple.
Other highlights include 'Come With Me' and 'Man At The Top', the heavy funk rhythm of 'Midnight Lady', the jubilant, light-in-the-darkness of 'Remember My Name', and 'Chicago' primitive barroom boogie.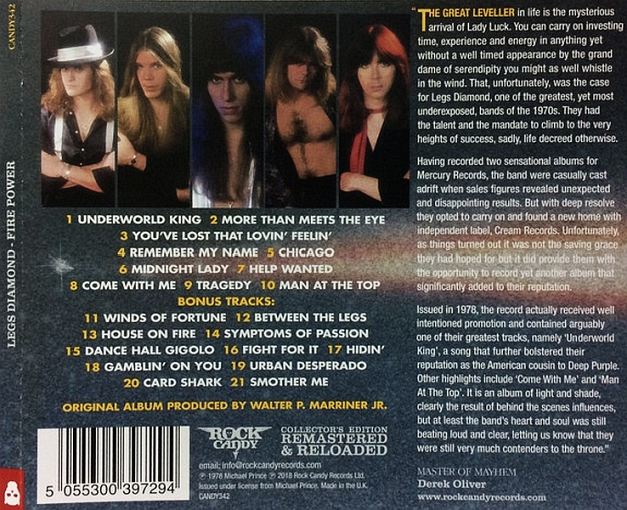 This Rock Candy reissue includes 11 bonus tracks, all recorded live-to-tape into the studio soon after "Fire Power". These were intended to form the basis of the band's next album.
Pile in some fine sound remastering and you have a near perfect formula; this is the ultimate version of Legs Diamond's "Fire Power".
Highly Recommended
You've seen it first here, at 0dayrox
01 – Underworld King
02 – More Than Meets the Eye
03 – You've Lost That Lovin' Feelin'
04 – Remember My Name
05 – Chicago
06 – Midnight Lady
07 – Help Wanted
08 – Come with Me
09 – Tragedy
10 – Man at the Top
BONUS TRACKS:
11 – Winds of Fortune [bonus track]
12 – Between the Legs [bonus track]
13 – House on Fire [bonus track]
14 – Symptoms of Passion [bonus track]
15 – Dance Hall Gigolo [bonus track]
16 – Fight for It [bonus track]
17 – Hidin' [bonus track]
18 – Gamblin' on You [bonus track]
19 – Urban Desperado [bonus track]
20 – Card Shark [bonus track]
21 – Smother Me [bonus track]
Rick Sanford – lead vocals, flute
Roger Romeo – guitars, vocals
Michael Diamond – bass
Jeff Poole – drums, percussion
Michael Prince – keyboards, rhythm guitar, vocals
BUY IT !
www.amazon.com/Fire-Power-Legs-Diamond/dp/B079PT2YRZ
.