CHURCH OF THE COSMIC SKULL – Science Fiction (2018)
Welcome to the CHURCH OF THE COSMIC SKULL, and their "Science Fiction" trip which is their new album. A potent amalgam of melodic prog, arena rock, pop, and a bit of psych, "Science Fiction" plays like a classic rock playlist from an alternate timeline.
Come, and worship this fab combo.
Nottingham-based rock septet Church Of The Cosmic Skull have done a more-than-admirable job setting themselves apart from the seemingly endless parade of monsters and demons and scowling young men in varying shades of black that populate today's heavy rock scene.
Their aesthetic is so refined and so well-structured, in fact, that at first glance some folks may be inclined to immediately dismiss the group out of hand as a mere novelty act or an elaborate joke.
Those folks would being doing themselves a grave disservice, however, because here's the thing: Church Of The Cosmic Skull is one of the best bands in the world of retro-rock, and with their absolutely breathtaking six-part harmonies, they may be the most singular unit out there.
Nobody else sounds like this.
The absolutely gorgeous vocal harmonies are really to the fore alongside the Hammond musings and Brother Bill's absolutely stunning, classy guitar sound.
It's like a mix of Uriah Heep, Traffic, Thin Lizzy, ELO, Fleetwood Mac, Queen, Led Zeppelin and even a touch of ABBA, but there's much more into the mix.
Church Of The Cosmic Skull can get high off rock n' roll on 'Revolution Comes With an Act of Love' or the title track, giving fans the epic dose of the electricity they've been waiting for.
But they deliver as well ridiculously catchy songs like 'Cold Sweat' or 'Timehole – Gonna Build A Rocket Tonight', that easily could be hits at classic rock radio.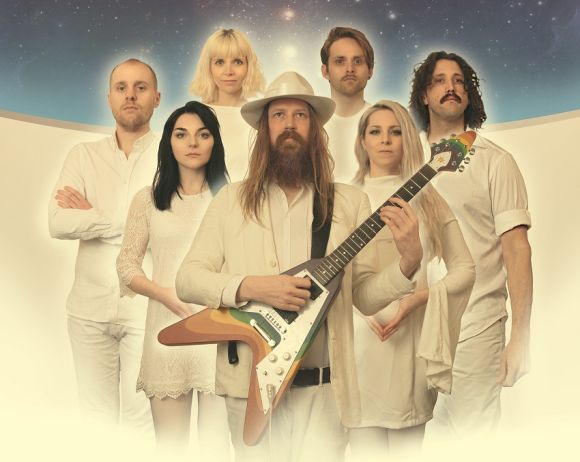 There's a lovely groove to 'The Cards That You're Playing' – probably my fave on the album – with the stuttering guitar, rock solid drum and bass sound and some blinding background vocals, it really wraps itself around you before that Hammond steps forward.
'Paper Aeroplane And Silver Moon' with its organ and twin vocals set a very different scene before everything moves up a gear, then it explodes: I think more than any this could be the track that showcases everything the band are about and would stand out as the single that pinpoints the ABBA / ELO connection.
Each song approaches it from a slightly different angle, from the slow serenity of centerpiece 'The Others' through the quick but subtle enough to make it a highlight linear build of closer 'The Devil Again', but much as the distinct sonic elements of brazen vocal harmonies, electric cello and keys / synth run along with the standard guitar, bass and drums, so too does joy seem to be the underlying theme of "Science Fiction".
This is such a strong LP (it's also available on vinyl and cassette, retro freaks); there's not a weak track present. Church Of The Cosmic Skull is very a special band, and with the forward drive they show here, it feels like their growth will only continue as their good word spreads.
"Science Fiction" is a unique mix of styles, arranged, recorded and produced with attention to detail, crystal clear mixed to enjoy its melodic delivery but also its rocking moments.
The invite to this 'cult' is right there waiting to be answered, give it a chance and join the congregation.
Highly Recommended
01 – Science Fiction
02 – Go by the River
03 – Revolution Comes With an Act of Love
04 – Cold Sweat
05 – The Others
06 – Timehole (Gonna Build a Rocket Tonight)
07 – The Cards That You're Playing
08 – Paper Aeroplane & Silver Moon
09 – The Devil Again
Guitar, Vocals – Brother Bill
Keyboards, Vocals – Brother Michael
Vocals – Sister Caroline
Vocals – Sister Joanne
Drums – Brother Laurence
Bass, Vocals – Brother Samuel
Cello, Vocals – Sister Amy
BUY IT !
cosmicskull.org/shop
.