VALENTINE (Robby) – The Queen Album 2014
In recent years, Dutch master ROBBY VALENTINE has been done an amazing Queen Tribute Show with a great full-band performance and at the same time recorded his own studio versions of these timeless songs. Because his first two Queen tribute albums 'A tribute to Queen 1' (2011) en 'A Tribute to Queen 2' (2012) are sold out, Valentine has decided to combine them together with 5 brand-new recorded songs into his ultimate Queen tribute record: "The Queen Album".
Apart from his incredible take on Queen hits like "Bohemian Rhapsody", "We Will Rock You" or "We Are The Champions", Robby offers a set that has not only covered the classic songs, but also some lesser known gems from the Queen catalog.
"The Queen Album" also features new, 2014 versions of "Crazy Little Thing Called Love" and "Dear Friend", plus 5 previously unreleased tracks not present on the Tribute CD's (check the tracklist below).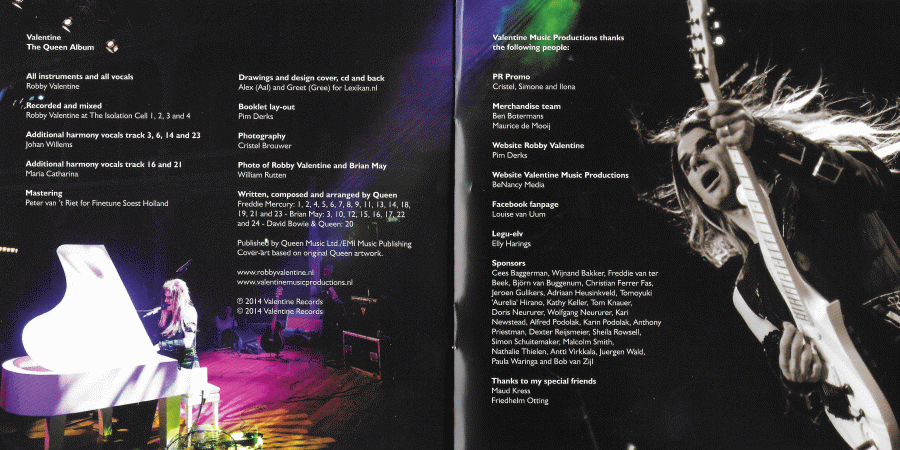 All the covers on "The Queen Album" have been meticulously crafted to recreate Queen's unique sound, showing that Robby Valentine not only got a real knowledge of these compositions, he also nails the essence, the spirit from how these songs were created.
On "The Queen Album" he has again played and recorded all instruments himself, as done all vocals. All arrangements have been recorded in full detail, thus succeeding in delivering the perfect Queen sound.
Indeed, all versions are faithful to the originals, except the quite modern take on "We Will Rock You" akin Def Leppard.
"The Queen Album" not only is recommended to Queen fans, but also lovers of quality music in general.
Robby Valentine is the perfect musician, and has managed to put these 24 tracks / 78 minutes into one single disc.
Highly Recommended
01 – Bohemian Rhapsody
02 – Crazy Little Thing Called Love [2014 version]
03 – Save Me
04 – Flick Of The Wrist
05 – Lily Of The Valley
06 – Don't Stop Me Now
07 – Killer Queen [previously unreleased]
08 – Good Old Fashioned Lover Boy
09 – Ogre Battle
10 – All Dead, All Dead [previously unreleased]
11 – Mustapha [previously unreleased]
12 – Fat Bottomed Girls
13 – Jealousy
14 – Bicycle Race
15 – '39
16 – Tie Your Mother Down
17 – Dear Friends [2014 version]
18 – Seven Seas Of Rhye
19 – Lazing On A Sunday Afternoon [prev. unreleased]
20 – Under Pressure
21 – Somebody To Love [previously unreleased]
22 – We Will Rock You
23 – We Are The Champions
24 – God Save The Queen
Robby Valentine – all instruments, all vocals
BUY
www.robbyvalentine.nl/music/