VEGA – What The Hell! [Frontiers reissue +1]
When Frontier Music signed VEGA into their roster, they agreed to re-reissue as well their acclaimed previous album "What The Hell!" released originally only in UK and Scandinavia.
This 'Frontiers Version' includes one previously unreleased song as bonus track; the AOR, keyboard driven "Skin Deep".
On "What The Hell!" Vega continues wearing their love for '80s melodic rock music injected with modern sounds.
Every song from the first track to the final cut features powerful vocals, catchy choruses, rhythmic keyboards and driving guitars, complete with impressive guitar solos pulling the songs higher.
The likes of "She Walks Alone", "White Knuckle Ride", "You Can't Run" and the anthemic title track are superb tunes that should see Workman and the Martin twins finally get some plaudits of there own, and rightly so.
Vega also has developed even more their sonically modern delivery as heard in "Not There For You" or the commercial and radio friendly "Bless My Soul", but don't be afraid, all are firmly planted in classic melodic rock.
A prove that they didn't sold their souls to mainstream is the absence of ballads, all tracks are uptempo foot-tapping rockers. Only on "Fade Into The Flames" they slows down a little, a midtempo with a typical British flavor.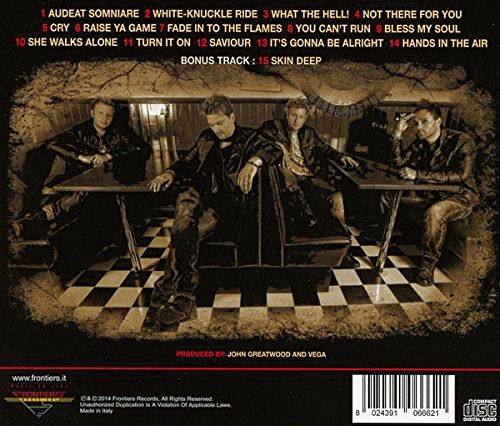 With "What The Hell!" Vega meet all the hype and expectations put on after their great debut.
It shows the band expandeding their melodic rock sound, even much bigger than before, and certainly they are a breath of fresh air for the genre.
The Martin brothers really know how to write a good, catchy song. What The Hell … this is really good.
Highly Recommended
01 – Audeat Somniare
02 – White Knuckle Ride
03 – What The Hell
04 – Not There For You
05 – Cry
06 – Raise Ya Game
07 – Fade Into The Flames
08 – You Can't Run
09 – Bless My Soul
10 – She Walks Alone
11 – Turn It On
12 – Saviour
13 – It's Gonna Be Alright
14 – Hand In The Air
15 – Skin Deep (previously unreleased / Bonus Track)
Nick Workman (vocals)
Dan Chantrey (drums)
Tom Martin (bass)
James Martin (keyboards)
Marcus Thurston (guitar)
BUY IT !
www.amazon.de/What-Hell-Vega/dp/B00MJFQ2YM
.