SUPER VINTAGE – Destiny (2018)
One of this blog's favorites, SUPER VINTAGE are back with a brand new album titled "Destiny", another strong set of rockin' bluesy songs with the band's characteristic feeling.
These guys, formerly known as Hush 'N Rush recorded various albums of heavy blues / classic rock stuff under this name. Then, after being singed by Grooveyard Records they decided to switch to Super Vintage and turning less blues –> more rock.
And they 'rock', believe me.
This is the 4th studio disc by this excellent blues-based, classic hard rock band from Kavala City, Greece, fronted by Stavros Papadopoulos on guitar & vocals. Includes 10 songs of awesome, dynamic, soul-powered, melodious hard rock mojo with a way-cool, down home Southern Rock vibe that lands rock solid to the musical core and establishes Super Vintage as a true classic rock band.
It's all muscle, steel and wood here, no trickery.
Stavros Papadopoulous is an amazing, talented guitarist whose musical output lands strong, focused and prolific. A bonafide six string riff master of the highest order who keeps things simple, but man, so effective and emotional.
The other guys are skilled as well, especially the drummer who carries the songs with stupendous beats.
Right from the killer opener "Rock N' Roll Saviors" – a song that is dedicated "to all of the good musical brothers and sisters worldwide who have shown their love and support of our music and who help us to Keep The Rock Alive" – this new Super Vintage album "Destiny" delivers a solid as rock collection of tunes from start to finish.
There's a great Lynyrd Skynyrd vibe on "Edge of Time", some hot vintage ZZ Top on 'Streets of This Town', and a bit of The Jeff Healey Band in the melodic midtempo "The Road".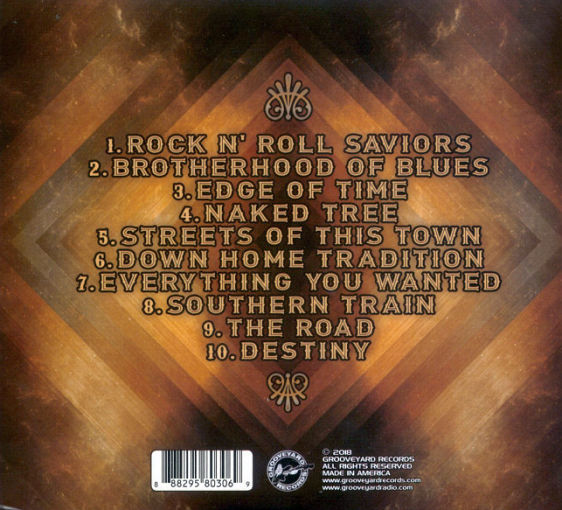 If you never heard Super Vintage you're missing something good, very good.
All influences are here from Glenn Hughes to The Winery Dogs, and all the mentioned above in between.
Superb, timeless collection of classic rock / hard tunes.
01 – Rock N' Roll Saviors
02 – Brotherhood of Blues
03 – Edge of Time
04 – Naked Tree
05 – Streets of This Town
06 – Down Home Tradition
07 – Everything You Wanted
08 – Southern Train
09 – The Road
10 – Destiny
Stavros Papadopoulos – Vocals,Guitar
Panagiotis Zabourlis – Guitar
Jim Moralis – Bass
Lazaros Simitsis – Drums
BUY IT !
www.amazon.co.uk/Destiny-CD-Super-Vintage/dp/B07FMR386P
.