SUPER VINTAGE – Welcome To Mojo Land (2016)
One of last year's surprises, SUPER VINTAGE, are back with a brand new album titled "Welcome To Mojo Land".
These guys, formerly known as Hush 'N Rush recorded various albums of heavy blues / classic rock stuff under this name. Then, after being singed by Grooveyard Records they decided to switch to Super Vintage and turning less blues / more rock.
And indeed, "Welcome To Mojo Land" as happened with their great album last year, Super Vintage delivers an explosive blend of dynamic Classic hard rock mojo, guitar-fueled, and heavy blues / groove based, that lands world-class and is all about keeping the true Rock alive.
The first thing that surprises me is the musicians origins; all are Greek including Stavros Papadopoulos on guitar & vocals, Panagiotis Zabourlis on guitar, Lazaros Simitsis on drums and recent bass player Jim Moralis. But honestly, they sound like a pure English-born quartet.
Tracks like 'Southern Moon Rising' sport almost melodic rock verses, 'Son of Pain' bring to mind Badlands, while 'Kiss Your Bad Feelings Goodbye' is catchy and melodic.
For a funky hard rock punch go to 'Let Me Be What I Want to Be', lots of melody in 'Living Like a Gypsy' then 'Rock 'n' Roll Revolution' rocks with a superb hard rock groove (great guitar solo here).
The band delivers a very good, atmospheric midtempo on 'River of Love' (another highlight), a superb bluesy ballad in 'Still Alive' complete with vintage keyboards and really fine vocal arrangements, and a great Coverdale-esque acoustically-filled in closer 'Light Upon My Soul'.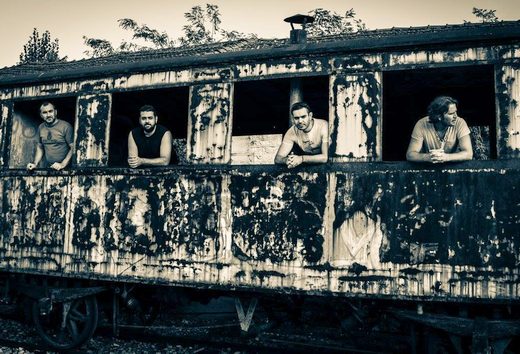 As we stated on occasion of the the previous album review, many will be surprised by Super Vintage's quality if "Welcome To Mojo Land" is your first approach to them.
This is a terrific combo delivering first class hard rock / melodic classic rock with more blood and authenticity than many 'major' bands in the current scene.
Production is excellent and the musicianship second to none. If you enjoyed Bandlands in the past and the recent Glenn Hughes, Red Dragon Cartel, and why not, The Winery Dogs albums, you need to check Super Vintage's "Welcome To Mojo Land".
What a great way to end the year with this superb, timeless collection of classic rock / hard tunes.
HIGHLY Recommended
01 – Southern Moon Rising
02 – Delta Mud
03 – Son of Pain
04 – Kiss Your Bad Feelings Goodbye
05 – Still Alive
06 – Let Me Be What I Want to Be
07 – Rock 'n' Roll Revolution
08 – Living Like a Gypsy
09 – Mojo Land
10 – River of Love
11 – Light Upon My Soul
Stavros Papadopoulos – vocals, guitar
Panagiotis Zabourlis – guitar
Lazaros Simitsis – drums
Jim Moralis – bass
BUY IT !
www.bear-family.com/super-vintage-welcome-to-mojo-land-cd.html
.