NAZARETH – Tattooed On My Brain (2018)
Scotland legendary rockers NAZARETH are celebrating its 50th anniversary as a band in 2018, and are marking the occasion with a hard-rocking new album, "Tattooed On My Brain" released via Frontiers Music. This is Nazareth's 24th full-length album and the first to feature new vocalist Carl Sentance (Don Airey, Krokus, et all).
The new line-up (apart from Sentance) includes guitarist Jimmy Murrison, drummer Lee Agnew and original bassist and founder member Pete Agnew, are ready to hit the road to promote this marvellous new album, their first for Frontiers, and it also coincides with the 'Loud & Proud' mammoth box set (featured on this blog HERE).
Formed in 1968 (from the ballroom cover band The Shaddettes), the original line-up featured guitarist Manny Charlton and drummer Darrell Sweet alongside Pete and vocalist Dan McCafferty. A few changes of guitarist, including the addition of guitarists Zal Cleminson and Billy Rankin, with keyboard players John Locke and Ronnie Leahy passing through the ranks. Sadly Darrell Sweet died in 1999, and Dan McCafferty's health forced retirement.
The work with Dan's immediate replacement, Linton Osborne, is sadly glossed over. But if you don't own Razamanaz, Rampant or even No Mean City, you're seriously missing out. 'Bad Bad Boy', 'Broken Down Angel' and 'Love Hurts' are all radio and live staples.
The opening track in this new album, 'Never Dance With The Devil', is a great start, there's a very catchy riff. Don't go expecting the traditional Nazareth sound. It's 2018 and the band have come along way since Razamanaz, line-up changes or otherwise. Here the band's new line-up are cutting a new identity. Carl's upper vocal range is good, solid, and quite clean – a far cry from the whiskey-soaked McCafferty years.
The title track is even further removed from the sound many fans will be used to – the guitar sound and riff are both verging on punky or early '80s new wave. Don't get me wrong it's a great track, it really does rock, and there's catchiness too. Over the riff there's a cool guitar solo.
In a confused way, the guitar intro to 'State Of Emergency' works better than expected. A hint of an AC/DC twiddle and a serious nod to Girlschool, the rhythms and riffs glue. Just what a rocker wants from a modern take on classic rock.
More balladic is 'Rubik's Romance', without all the strumming and including acoustic guitar. Very melodic and radio friendly. Not as slow as your typical Naz ballad.
More rocking is 'Pole To Pole', that's had an airing already, a touch of a Nazareth-AC/DC crossover, and why not, having Sentance on vocals, similar to his days in Krokus too. Again Pete and Jimmy combine well.
'Push' is an all too rare nod back to the blues that the band did so well in the early and mid '70s, something that's been lacking for too long. A little moody song, with a a good and solid feel.
'Don't Throw Your Love Away' has a hint of '80s bluesy glam (think Cinderella), but with a dirty Zeppelin-esque edge.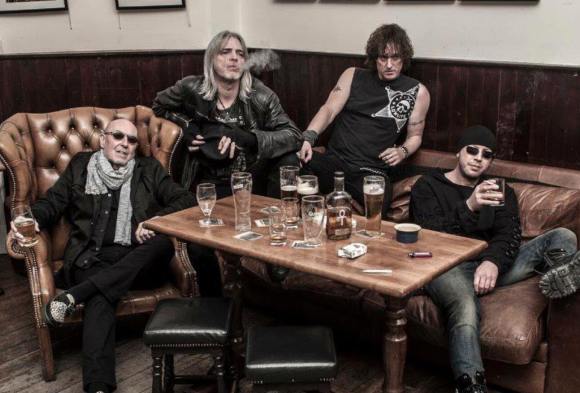 The tracks here are written (or at least credited) individually, which is rare compared to the historical 4 or 5 way credit. That did lead to tracks going off-piste got Nazareth-fied. There's a little less evidence of that here, but that doesn't detract from the quality of the songs.
And it's great to see Pete write a couple of songs, including the very gentle and mellow closer 'You Call Me', on which he handles the vocals. More acoustic, it brings things down nicely, and a song I will return to.
I'll admit that "Tattooed On My Brain" it is a lot more different to what I expected, but there are some excellent tracks here. It's either a good album, just not Nazareth, or a good new album for a very different Nazareth. I'll let you decide, but it's still well worth checking out.
This is a 'fresh' Nazareth, still rocking 2018, and given that Pete's still up there playing his arse off to this (still high) ability, long time fans will find a lot to enjoy as well.
Strongly Recommended
01. Never Dance With The Devil
02. Tattooed On My Brain
03. State Of Emergency
04. Rubik's Romance
05. Pole To Pole
06. Push
07. The Secret Is Out
08. Don't Throw Your Love Away
08. Crazy Molly
09. Silent Symphony
10. What Goes Around
11. Change
12. You Call Me
Pete Agnew – Bass
Carl Sentance – Vocals
Jimmy Murrison – Guitar
Lee Agnew – Drums
PRE ORDER:
www.amazon.co.uk/Tattooed-My-Brain-Nazareth/dp/B07FGCX8BG
.