BLACK TIGER – Black Tiger (2018)
We have already presented here advanced singles from BLACK TIGER, which self-titled full length debut album will be released tomorrow. "Black Tiger" was recorded at Tanzan Music Studio, with renowned producer Mario Percudani (Hungryheart, Hardline) behind the desk and also playing on the album, as well featuring guest appearances of well known names in the melodic rock / AOR world: Dan Reed (Dan Reed Network), Josh Zighetti (Hungryheart), Guilio Garghentini etc.
Black Tiger play a mix of AOR and melodic rock influenced by the '80s. The band released three independent EP´s: 'All Over Night' (2010), 'Road To Rock' (2013) and 'Songs From Abyss' (2015); the last two featuring Dan Reed as a guest. All received positive reviews in prestigious magazines, e.g. in "Powerplay" and "Classic Rock Presents AOR".
The album offers solid songwriting with emphasis on strong melodies, big choruses, rich guitars, interesting arrangements, and clear production sound.
Among the highlights I should mention the midtempo atmospheres of opener 'Don't Leave Me', the pumping melodic rocker 'Against the Grain', or the keyboard layered AOR of 'Who Is to Blame', a winner, with some Moritz on it.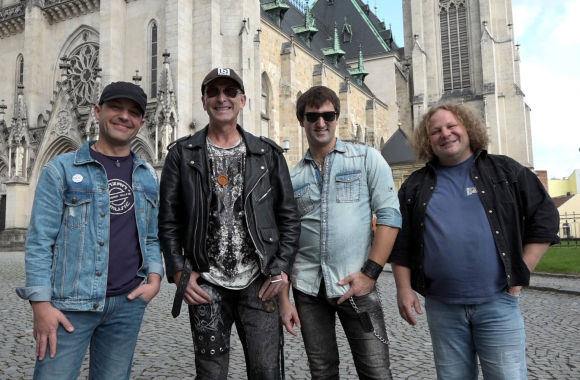 Black Tiger harden their style with sharper guitars on 'Life Is a Game' (very nice chorus), the riff-driven 'She's a Liar', and the catchy 'Reason to Live'. There's also fine ballads too, such as 'Solitary Man' (brings to mind Hungryheart), and the sweet 'Silent Cry' including pianos, acoustics, and even a sax solo adding color to the band's offering.
With obvious love for the classy '80s sounds, "Black Tiger" is a really welcomed surprise this year, a solid album from a band / musicians who know their game. Blending AOR and Melodic Rock melodies always trying to avoid common places and wrapped by a good, clear production, this is a truly enjoyable debut.
Highly Recommended
01 – Don't Leave Me
02 – Life Is a Game
03 – Solitary Man
04 – She's a Liar
05 – Against the Grain
06 – Reason to Live
07 – Who Is to Blame
08 – Silent Cry
09 – Never Too Late
10 – Open Your Eyes
Jan Trbusek – vocals
Lubos Ferbas – bass
Petr Picard Konik – drums
with:
Mario Percudani – guitar, backing vocals
Jiri Doelzel – guitar, keyboards
Dan Reed – backing vocals
Josh Zighetti – backing vocals
Giulio Garghentini – backing vocals
PRE ORDER:
www.freemoodpromotion.com/?product=black-tiger
.