NORDIC UNION – Second Coming [Japan Edition +1] (2018)
Danish / Swedish super-duo NORDIC UNION — which features PRETTY MAIDS vocalist Ronnie Atkins and guitarist / songwriter / producer Erik Martensson (ECLIPSE, W.E.T., AMMUNITION) — will release its sophomore album, "Second Coming", via Frontiers Music next November 9, while tomorrow will appear in its Japanese edition plus a bonus track.
The partnership between the two Scandinavians came about sometime in 2015, when Atkins was sent a bunch of demos put together for him by Martensson. The enthusiastic reaction from Atkins sparked a brand new musical alliance that culminated in NORDIC UNION's self-titled debut album, which was released in January 2016.
Musically, the duo presented a hybrid of the more melodic aspects of PRETTY MAIDS' sound mixed with elements of ECLIPSE, TALISMAN and W.E.T., while still possessing their own identity.
Taking requests from fans for a follow up to the debut, the two musicians decided to give NORDIC UNION another shot, so after a few months production, "Second Coming" will land soon much to the delight of melodic rock fans worldwide.
Every aspect of "Second Coming" screams quality.
The songwriting is of the highest standards, the musicianship faultless, and production top notch, crisp and clear as a bell. Just listen to the anthems like 'My Fear & My Faith', midrempo gem 'It Burns' or the punchy 'The Final War.
Do you need AOR? Check 'Because Of Us', the glorious' Walk Me Through The Fire' , or the golden ballad 'New Life Begins'.
Wait a minute… what I am doing here? Track by track review? You don't need this. All tracks are pure gold. Melodic Rock / AOR perfection from start to finish.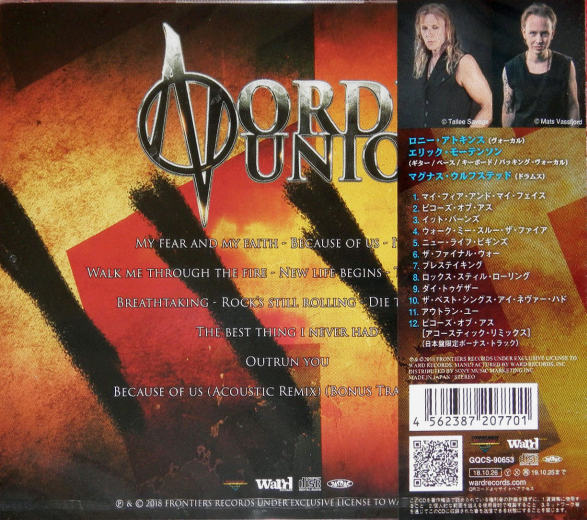 Ronnie Atkins continues to improve with time as he deftly demonstrates throughout the album that he knows how to use his voice effectively at any given point in a song. He's simply awesome and one of the Top 3 vocalists from the current scene.
And what can I say about Erik Martensson… awesome riffs, thumping beats, superb production… the man is the complete package.
You don't need more blah , blah… this is one of the best albums of the year, and a MANDATORY purchase.
01. My Fear & My Faith
02. Because Of Us
03. It Burns
04. Walk Me Through The Fire
05. New Life Begins
06. The Final War
07. Breathtaking
08. Rock's Still Rolling
09. Die Together
10. The Best Thing I Never Had
11. Outrun You
12. Because Of Us (Acoustic Remix) (Japan Bonus Track)
Magnus Ulfstedt – Drums
Ronnie Atkins (PRETTY MAIDS) – Lead & Backing Vocals
Erik Martensson (ECLIPSE, W.E.T.) – Guitar, Bass, Keyboards, Backing Vocals
BUY IT !
www.cdjapan.co.jp/product/GQCS-90653
.