PRETTY MAIDS – Jump The Gun [Japan Blu-Spec CD2 remastered] (2018) EXCLUSIVE
Sony Music Japan just started a fantastic series of PRETTY MAIDS albums for the first time officially remastered and pressed on High Quality Blu-spec CD2 format. "Jump The Gun" is the third major label studio album by the Danish melodic hard rock legendary band, now in all its glory with this superb sonic treatment.
The 'maids' were, are, and will be forever amongst my favorite bands. Despite the worse-chosen band name in history, these Danes wrote – and still do – some of the best melodic hard rock tunes you can find in the genre, and never enjoyed the recognition they truly deserve.
'Future World' ('87) and this 1990 effort "Jump The Gun" ("Lethal Heroes" for its US release) both are staples in high quality Melodic Hard Rock history.
Heavier than American hair / glam hard rock and infinitely more melodic than most traditional European metal, Pretty Maids has the best of both worlds: razor double electric guitar attack and crispy acoustics, a finesse keyboard mix and excellent lead / harmony vocals.
Ronnie Atkins' slightly raspy but strong vocals sometimes reminds you of Bonfire's Claus Lessman, but I always thought Pretty Maids as the European answer to my beloved Icon, the Phoenix, Texas band.
I am not so far in the appreciation, as one track in this album ("Hang Tough") was written by Dan Wexler for Icon's 'Night Of The Crime' album, but did not make it into the final release.
"Jump the Gun" has a more commercial approach than previous albums, as evident referring to both songwriting and the big, huge production sound.
The songwriting team of vocalist Ronnie Atkins and guitarist Ken Hammer is one that should be the envy of every up and coming composer out there. Ronnie has the ability to emote with his voice so distinctly and perfectly that his pipes are instantly recognizable and welcomed.
Ken therefore fashions the memorable riffs and arrangements that make up the four minute musical jewels that adorn their career.
Long time running mate Alan Owens uses his keyboards in exactly the right way that this music needs. He dots the landscape of these twelve songs with the right amount of added flair so as to set the precedent that yes, you can use keyboards / synths at the service of a song, not just as flourishing fills .
A good example of this would be "Over And Out" where he uses proper amount of effects on an otherwise simple song to make it a definite killer.
"Lethal Heroes" is one of the best songs they ever wrote, a great metallic yet polished monster with pounding riffs and top vocals. Magnificent tune.
"Don't Settle For Less" is a midtempo anthem about pining away in lust rather than settling for "no" as an answer and the vocal harmonies are humongous.
"Savage Heart" is one that the band continue to play even today live, a pseudo ballad with bite about a solider in war. This is about as soft as it gets on Jump The Gun so I guess I can see why it was the "hit" single and the song most remembered by the handful of critics that claim it as a classic. Ronnie delivers the goods vocally with an emotionally packed performance and is even accompanied by some soulful female vocals at the conclusion.
Then "Young Blood" (legendary Deep Purple's Ian Paice play here) picks up the pace a bit before "Headlines" rocks in metallic style", also a great song.
The title track brings more melodic hard with clever arrangements above the bar for a song in this genre, followed by "Partners In Crime" which kicks you sideways with great harmonies and a fantastic chorus.
Adding acoustics into the mix and a bluesy background, closing number "Dream On" is a laid back, loose affair that end the album on a good note.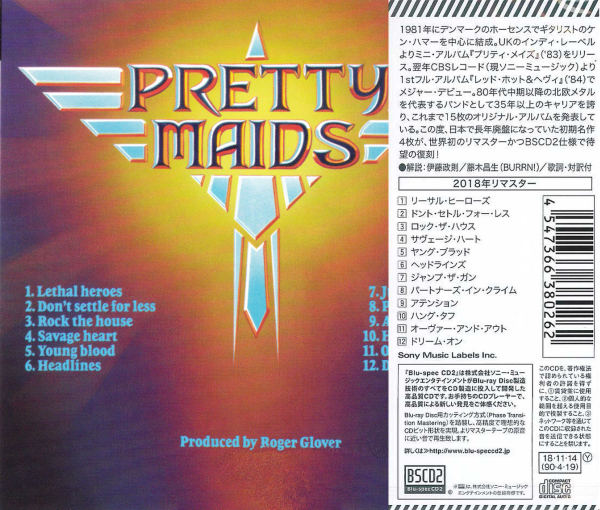 The album was produced by Deep Purple's bass guitarist Roger Glover with the glossy, 'huge sound' so in vogue at the end of the '80s. According to CBS, it was then the most expensive album recording to date in Denmark, with a cost of around DKK 3–3.5 million.
So expect attention to detail and tons of layers / multi-track production design.
"Jump The Gun" (and Pretty Maids itself, if you ask me) still remains unknown or not properly heard for many fans of the genre.
If this is your case, don't waste more time, pick up this Japanese remastered Blu-spec CD2 release.
Essential into any respected Melodic Hard Rock collection.
You've seen it first here, at 0dayrox
Sony Music Japan ~ 【SICP-31224】
「 LEGACY BSCD2 REISSUE SERIES 」
01 – Lethal Heroes
02 – Don't Settle for Less
03 – Rock the House
04 – Savage Heart
05 – Young Blood
06 – Headlines
07 – Jump the Gun
08 – Partners in Crime
09 – Attention
10 – Hang Tough
11 – Over and Out
12 – Dream On
Ronnie Atkins – Vocals
Ken Hammer – Guitar
Ricky Marx – Guitar
Allan Delong – Bass, Backing Vocals
Alan Owen – Keyboards, Backing Vocals
Phil More – Drums
Additional musicians:
Ian Paice – Drums on "Young Blood"
Roger Glover – Bass on "Dream On", Producer
Freddy George Jensen – Harp on "Dream On"
Ivan Pedersen, Knud Linhard – Backing Vocals
The New Jersey Mass Choir appears on "Savage Heart"
BUY IT !
www.cdjapan.co.jp/product/SICP-31224
.