QUEENSRYCHE – Empire [20th Anniversary Edition remastered] (2-CD)
Also requested among the QUEENSRYCHE discography, here's the pretty expensive 2-CD box version of their multi-platinum album "Empire". Celebrating the 20th Anniversary of its original release, this classic album was remastered with the addition of a bonus disc including 13 bonus tracks, among them 10 previously unreleased live performances recorded in 1990 at London's Hammersmith Odeon.
"Empire" went triple platinum and spawned Top 10 modern hard rock hits as "Silent Lucidity", "Jet City Woman" and "Another Rainy Night", the Top 20 single "Anybody Listening?" and the Top 30 singles "Best I Can" and "Empire".
In the U.S. the album peaked at #7 on the Billboard Top 200 chart, #10 in UK, and the album's international success led to Queensrÿche's 18-month headlining "Building Empires" world tour, the band's longest trek to date.
This 'Deluxe Edition' features:
Disc 1 is the entire "Empire" album with three bonus songs; "Last Time In Paris" (one of my personal favorites), which didn't make it into the final track list, originally done for the soundtrack to the 1990 movie 'The Adventures Of Ford Fairlane', starring Andrew Dice Clay.
Also there's "Dirty Lil' Secret" and the band's cover version of Simon & Garfunkel's classic "Scarborough Fair" done in the 'Ryche' fashion.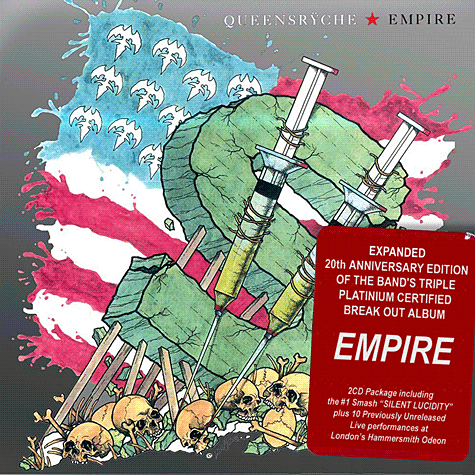 Disc 2 contains tracks recorded on November 15, 1990 at the Hammersmith Odeon in London.
This is the real coup from this release.
Recordings of this show have surfaced before as a bonus disc to a deluxe edition of "Operation: Mindcrime", featuring that classic album recorded live in its entirety.
The rest of that show featuring songs from previous albums can be found here for the first time.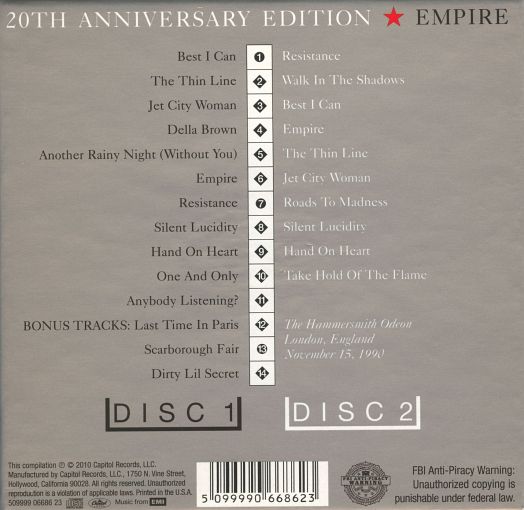 What more can I say about "Empire" ? If you're a QUEENSRYCHE fan, chances are, you already own the original release.
But this 2-disc package with bonus songs and a previously unreleased Live concert is something you'll truly enjoy.
Sonic-wise, the remaster provides a much more clearer and pristine high end.
A classic
Disc 1: Empire remastered +3
01. Best I Can
02. The Thin Line
03. Jet City Woman
04. Della Brown
05. Another Rainy Night (Without You)
06. Empire
07. Resistance
08. Silent Lucidity
09. Hand On Heart
10. One And Only
11. Anybody Listening?
12. Last Time In Paris [bonus track]
13. Scarborough Fair [bonus track]
14. Dirty Lil' Secret [bonus track]
Disc 2: Live at the Hammersmith Odeon, London
November 15, 1990
01 – Resistance (Live)
02 – Walk In The Shadows (Live)
03 – Best I Can (Live)
04 – Empire (Live)
05 – The Thin Line (Live)
06 – Jet City Woman (Live)
07 – Roads To Madness (Live)
08 – Silent Lucidity (Live)
09 – Hand On Heart (Live)
10 – Take Hold Of The Flame (Live)
Geoff Tate: Lead vocals, Keyboards
Chris Degarmo: Guitars, Keyboards, Backing Vocals
Michael Wilton: Guitars
Eddie Jackson: Bass, Backing Vocals
Scott Rockenfield: Drums, Percussion
Additional musicians;
Michael Kamen – Orchestral arrangements
Randy Gane – message left on answering machine on "Empire"
Robert Bailey – Keyboards,Programming
BUY IT !
www.amazon.co.uk/Empire-20th-Anniversary-Queensryche/dp/B003XFV7W4
.