PILEDRIVER – Rockwall (2018)
We have featured here the enjoyable previous album from Germans PILEDRIVER, and now they are back with "Rockwall", their new effort, mixing classic rock of all times with traditional 'Teutonic' hard rock.
Despite Piledriver are celebrating their 20th anniversary, this is their second album only, but you can hear the years of experience from these musicians and their "signature sound".
And Piledriver sound is a mix of classic rock with traditional hard / melodic rock. In their origins, they band was known for being the 'finest Status Quo tribute band', in fact their name is the title of one album from the famous band. Thus, on the new album, there's the song "Rocker's Rollin", a Quo song to be understood as tribute to Rick Parfitt, who recently passed away.
However, "Rockwall" showcase the varied Piledriver influences.
Opener 'Stomp' is indeed a hard rockin' stomp with British feel, 'Agitators' delivers a classy riff in the AC/DC style, 'One For The Rock' is pure classic rock including Hammond, and the title track is an anthemic rocker with some political theme (as you can see on the album cover art). All fun stuff.
On 'Farewell', a midtempo tune with some acoustics, the band reminds me of Michael Voss solo works, 'Julia' is a catchy melodic rocker with an '80s feel, 'Draw The Line' rocks with stronger pulse and that classy 'German touch', then 'Nazareth' will instantly bring to your mind early Eighties Scorpions with its clean guitars and atmosphere.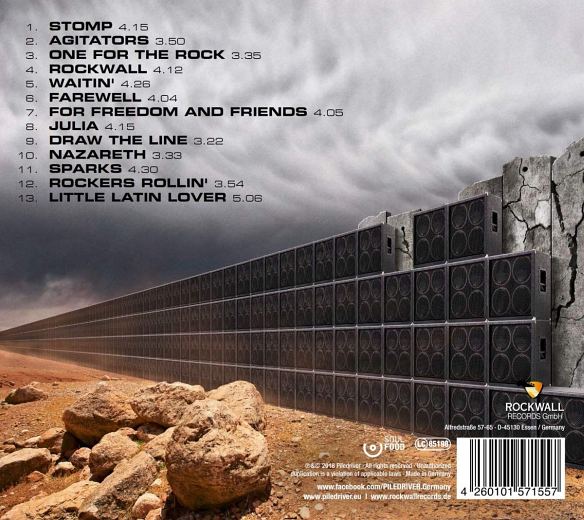 There's a lot to like on "Rockwall", a fun album with a feel-good vibe all the time. There's classic rock, hard, melodic rock, and all comes in a really natural way.
Highly Recommended
01 – Stomp
02 – Agitators
03 – One For The Rock
04 – Rockwall
05 – Waiting
06 – Farewell
07 – For Freedom And Friends
08 – Julia
09 – Draw The Line
10 – Nazareth
11 – Sparks
12 – Rockers Rollin'
13 – Little Latin Lover
Michael Sommerhoff – lead and harmony vocals, guitars
Peter Wagner – guitars, lead and harmony vocals
Rudi Peeters – keyboards, harmony vocals
Marc Herrmann – bass
Hans in 't Zandt – drums, harmony vocals
PRE ORDER:
www.amazon.de/Rockwall-Piledriver/dp/B07GW4FBQ8
.