QUEEN – Bohemian Rhapsody [The Original Soundtrack] (2018)
The original film soundtrack for "Bohemian Rhapsody", the much-anticipated QUEEN bio-movie include previously unreleased tracks in audio format from Live Aid, the historic Wembley concert from July 1985. These Live Aid songs are among the rare gems and unheard versions from the band's rich catalogue.
Alongside the show-stopping Live Aid performances of 'Bohemian Rhapsody', 'Radio Ga Ga', 'Hammer To Fall' and 'We Are The Champions', the album features other rare live tracks spanning Queen's entire career, new versions of old favourites, and a choice selection of the band's finest studio recordings.
Among them are some of Queen's biggest hits, including eleven all-time anthems that reached Number One around the world.
The album contains 22 tracks. Five of them are taken from the Live Aid recording in July 1985, never before released in audio format. There are also some new ideas from Queen classics recorded specifically for this soundtrack.
One of the tracks is the version of "We Will Rock You (movie mix)", which includes both studio and live sound with the participation of the audience.
A new version of one of my favorite Queen songs, "Don't Stop Me Now" includes newly recorded guitar parts Brian May. Smile, Queen's predecessor, also reunited to re-record their original song "Doing All Right" (Queen's own version appeared later on their debut album).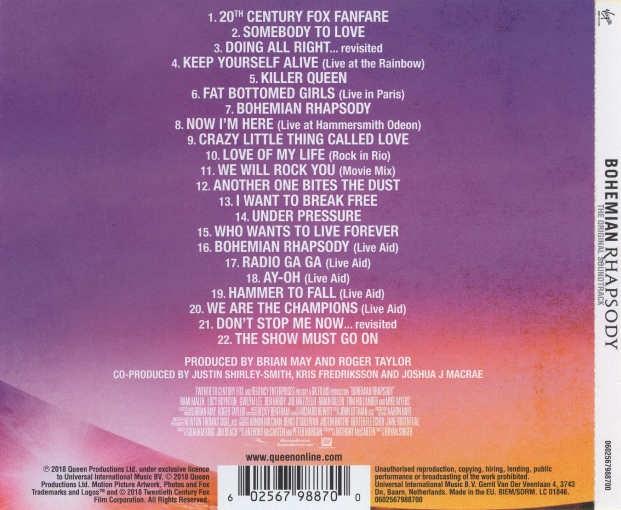 In order to support the feeling of the "soundtrack" to the project, Queen also recorded a new version of the famous "20th Century Fox Fanfare".
A must have for Queen and classic rock fans.
01. 20th Century Fox Fanfare [recorded 2018]
02. Somebody To Love
03. Doing All Right (… revisited) [recorded 2018]
04. Keep Yourself Alive (live at The Rainbow)
05. Killer Queen
06. Fat Bottomed Girls (live in Paris)
07. Bohemian Rhapsody
08. Now I'm Here (live at the Hammersmith Odeon)
09. Crazy Little Thing Called Love
10. Love of My Life (live at Rock in Rio)
11. We Will Rock You (movie mix)
12. Another One Bites the Dust
13. I Want to Break Free
14. Under Pressure (feat. David Bowie) [remastered]
15. Who Wants to Live Forever
16. Bohemian Rhapsody (Live Aid)
17. Radio Ga Ga (Live Aid)
18. Ay-Oh (Live Aid)
19. Hammer to Fall (Live Aid)
20. We Are the Champions (Live Aid)
21. Don't Stop Me Now (… revisited) [guitar recorded 2018]
22. The Show Must Go On
Freddie Mercury – lead vocals, keyboards
John Deacon – bass, guitar, keyboards
Brian May – guitar, keyboards, vocals
Roger Taylor – drums, guitar, keyboards, vocals
BUY IT !
www.amazon.co.uk/Bohemian-Rhapsody-Original-Soundtrack-Queen/dp/B07GW2N5LB
.