DOOMSDAY OUTLAW – Suffer More (2018)
Frontiers Music is about to release "Suffer More", DOOMSDAY OUTLAW's previous album (self-released) which grabbed the attention of the label to sign in the group. If you like your classic hard rock music with a bluesy tinge then ​Doomsday Outlaw ​​are a band for you.
"Suffer More" ​is 'more' than just a quick album as it boasts 15 tracks, yet all keeps you interested as all are smokin' rockers.
Kicking straight on with "Walk On Water" you can instantly hear why Frontier put an eye on the band. With its heavy riffs and groovier vocals it becomes what a good rock n roll band should sound like.
But this is only the start and as the album continues to deliver quality stuff, all very well recorded with really clear sound.
As you continue you get to "All That I Have" which begins with almost isolated vocals which showcases the strength of ​Phil Poole's ​​voice. The groove sets in, and while still having a rocking feel the track is definitely lighter than some of their other numbers.
"Blues For A Phantom Limb" does almost what it says on the tin with its extremely bluesy guitars & sound before kicking into those great grooves the band prove to know so well.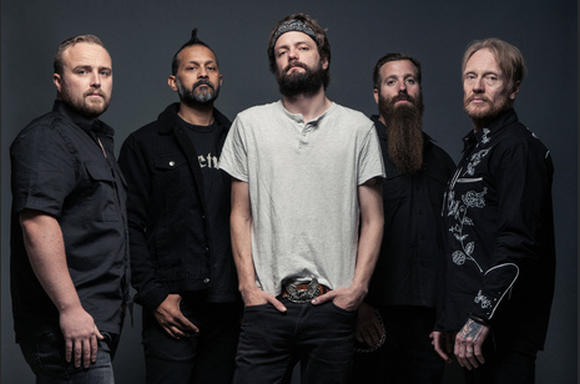 Doomsday Outlaw is a band who can cover a wider range of classic rock / hard sounds while still managing to keep a very clear path of who they are.
That's the balance of "Suffer More", rocking numbers and bluesy calmer tunes, something like a mix between Thunder and Rival Sons.
Once heard it's very easy to see why Frontiers wanted to release this album. It's over an hour of good old fashioned well-crafted rock and roll that has heart n' soul that will certainly find itself on repeat.
Highly Recommended
01. Walk On Water
02. Fallback
03. Driftwood
04. All That I Have
05. Suffer More
06. Pandemonium
07. I've Been Found
08. Bring You Pain
09. Blues For A Phantom Limb
10. Saltwater
11. Standing Tall
12. Wait Until Tomorrow
13. Jericho Cane
14. Running Into You
15. Tale Of A Broken Man
Phil Poole – vocals
Steve Broughton – guitars
Indy Chanda – bass
Gavin Mills – guitars
John Willis – drums
PRE ORDER:
www.amazon.com/Suffer-More-2018-Doomsday-Outlaw/dp/B07FWF5WW6
.