RADIANT – Radiant (2018)
To be released tomorrow, "Radiant" is the self-titled debut album by five-piece melodic hard rock band RADIANT from Northern Germany, formed in 2014 when vocalist Herbie Langhans (Voodoo Circle, Avantasia), guitarist Flo Gottsleben and bass player Markus Beck (both ex-Seventh Avenue) got together, and began to write and record in the old fashioned way… not via internet, but by playing in the same room and working as a unit to craft the fourteen songs on their eponymous debut album.
They are a very polished outfit with an '80s / '90s melodic hard rock approach and, I guess, evoke a mix of their previous bands and a similar sound to FAIR WARNING, with a bit of BONFIRE, GOTTHARD, etc, and the modern trend of the genre.
Opener 'Yes I Am' sets out the agenda with a very well structured piece of Euro hard rock that all the boxes; great riff, multi tracked vocals with a catchy chorus, although the thing that stood out on first listen for me was the bass which is genius and we even get a sort of bass solo too. Musically, NIVA comes to mind.
Mid-paced, 'Silver Linings' features layers of vocals even during the verses, in a song that mix the best of ZENO with a touch of DARE. Very good AOR tune in German style.
Then Radiant shift gears for 'You Rock', which has a Dio edge to it and is nearly as much fun as his 'We Rock' and has a strong lead vocals plus a meaty guitar solo. 'Dorian Gray' is cool ballad with a LAST AUTUMN'S DREAM feeling, then more 'epic' melodic hard rock appears in 'Forever One', akin recent MICHAEL VOSS works.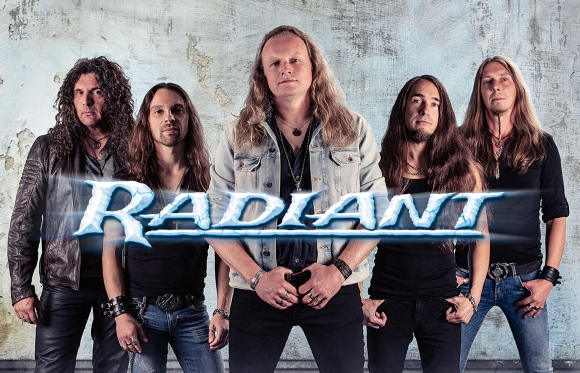 'Heroes' is just another very commercial rocker in the FRONTLINE vein. 'Paint The Grey' has piano to introduce another great bass line as it builds and brings an edge to a semi-midtempo, while 'My Own Way' with the acoustic guitar and synth strings is the true ballad here and, shades of BON JOVI aside, is a solid number.
Closing track 'Hit The Night' has a crowd overdubbed on the intro and plenty of 'whoa-whoas' to get a real crowd joining in. A classy guitar solo adds to the enjoyment.
After the first music bits of "Radiant", you can tell this is a German band. Their brand of melodic hard rock is unmistakably Teutonic, clearly inspired by the '80s and early Nineties.
Huge melodies, clean and powerful lead vocals, layered choruses, strong riffs and some keyboard flourishes, and you have a very good, entertaining album here. Read above the 'sound-alike', and if that's your game, this is for you.
Highly Recommended
01 – Yes I Am
02 – I'm Alive
03 – Silver Linings
04 – You Rock
05 – Dorian Gray
06 – Forever One
07 – Heroes
08 – Liars
09 – Not Worth After All
10 – Paint the Grey
11 – My Own Way
12 – Should I Live with You
13 – Life's Shadows
14 – Hit the Night
Herbie Langhans (Avantasia, Voodoo Circle) – Vocals
Flo Gottsleben (ex- Seventh Avenue) – Rhythm Guitars
Carsten Stepanowicz – Lead Guitars
Markus Beck (ex- Seventh Avenue) – Bass
Manni Spalka – Drums
PRE ORDER:
www.amazon.com/gp/product/B07H9CRQ74
.