HEAD HONCHOS – Bring It On Home (2018)
"Bring It On Home", the debut album from Indiana newcomers HEAD HONCHOS, is a family affair. Father and son, side by side, guitars in hand, and the blues / classic rock in their hearts. The elder of the two, Rocco Calipari Sr, ain't no new kid on the block having played in many bands, the younger – you guessed it – Rocco Calipari Jr, is his father's equal, the mix of youthful exuberance and maturity serving the pair well as they blast out a smart mix of originals and covers.
Aided by drummer Scott Schultz and alternating bass-men Roberto Agosto and CC Copeland, where this outfit truly make their mark is through their chosen heavy blues-attack.
Already reading the band name and the album's title kinda made me think this could be bluesy influenced, shit kickin' hard rock. Long known for its serious, maudlin, 'heavy' outlook, here the bluesy rockers are delivered with a glint in its eye and the intention to bring the good times.
Sprinkling a little funk here, a slice of soul there and some mighty fine fret frolics just about everywhere, the one thing you're assured by the time the thirteen tracks have had their way with you, is that you'll be grinning from ear to ear.
The CD starts off with "Not For Me" and I wasn't that far off target. It's definitely heavy blues / kickin' groovy classic rock / hard. "Old And Tired" continues in a cool swing funk heavy blues vibe, actually with a touch of Stevie Salas, which is great in my book. Nice phat groove!
"Work" kicks up the tempo a notch. Slide guitar, chunky Hammond organ and a cook dirty groove. Great energetic vocals and killer guitar licks. In "Come Strong" they do give it a southern rock touch, but it also has a straight ahead blues rock vibe to it. It's a track that has "dance" written all over it.
"Next To You" kicks it off with a cool drum fill and some slide guitar. One of my favorites is the super grooving "Whiskey Devil" and its darting guitar and horns.
"That Drivin' Beat" careens past with no little precision and poise, and "Work" hits home with real force and passion. With Rocco Snr possessing a hugely convincing vocal bark and a serous flair on the frets, it's Jnr who locks in tight with the rhythm men, as they lay down the unmovable foundations and allow the melodies and solos to weave their spell.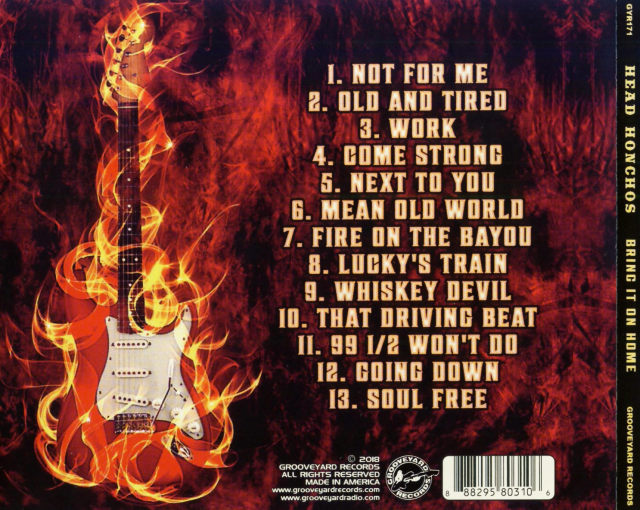 Whether it's the more familiar tones of Freddie King's "Going Down" – a kick ass version by the Honchos more up-tempo in a Blackfoot / SRV vein – or the brand new and undoubtedly spanking aforementioned opener "Not For Me", there's an irresistible up-tempo vibe that runs so deep through these songs that you just have to give in to it.
The mix of the album from Mike Regan assures there's also a clear picture of exactly what's going on, while the mastering work from Grooveyard Records regular Stavros Papadopoulos is remarkably bright.
"Bring It On Home" is exciting, it's vibrant, but most of all, this debut from the Head Honchos is damn good fun.
01 – Not For Me
02 – Old And Tired
03 – Work
04 – Come Strong
05 – Next To You
06 – Mean Old World
07 – Fire On The Bayou
08 – Lucky's Train
09 – Whiskey Devil
10 – That Driving Beat
11 – 99 1-2 Won't Do
12 – Going Down
13 – Soul Free
Rocco Calipari Sr. – Guitar, Lead Vocals
Rocco Calipari Jr. – Guitar
Roberto Agusto – Bass
Roger Femali – Drums
BUY IT
www.grooveyardrecords.com/headhonchosbringitonhome.html
.