MICHAEL LANDAU – Organic Instrumentals [Digipak]
MICHAEL LANDAU is perhaps the most widely respected session guitarist of all time. He has recorded all styles of music and worked with ALL, from James Taylor to Steve Perry to John Wetton.
As a leader of own projects his discography is admittedly light, but he's ramped up recently with 'Live' (2006) from his main band, the rock/vocal driven 'Renegade Creation' (2010) with guitarist Robben Ford, and his fresh solo album "Rock Bottom" (2018).
What Landau's discography has been missing, however, is an all-instrumental record, and with "Organic Instrumentals" he's righted that serious wrong. And what a stellar record it is.
As a huge fan of Michael Landau's toothy Strat tones — especially his contribution to countless AOR gems — I've collected and studied his recordings over the years.
Yet, I wasn't prepared for "Organic Instrumentals".
Aided by an ace band, he has crafted one of the most comprehensive, varied, satisfying all-guitar album I've heard since Jeff Beck's Blow by Blow.
Perhaps that's not surprising: there's a lot of Beck in these 10 tracks, principally in Landau's snappy, fingers-pulling-strings attack and supreme wang-bar artistry.
These Beck-isms are balanced by equal amounts of Hendrix epic riffs, slinky double-stops, and spacey bends.
Landau shuffles the rhythm section among a bunch of largely well-known monster musicians (in example Vinnie Colaiuta or Jimmy Haslip), but what lends "Organic Instrumentals" its consistency, strength and authenticity —beyond the guitarist's tasty playing, effortless control over effects and verisimilitude across electric and acoustic instruments— is keyboardist Larry Goldings.
When Landau interacts with Goldings, who plays on most of the album, we hear a mesmerizing interplay between ringing Fender Stratocaster and churning Hammond deeply explored.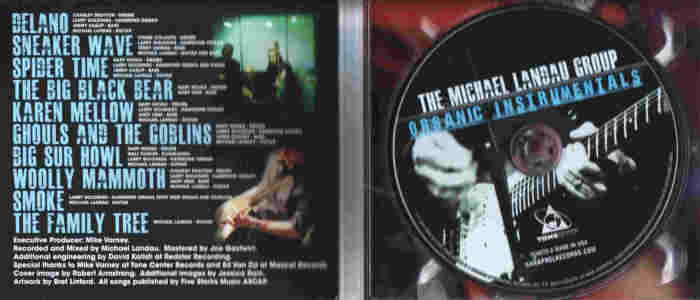 Landau also breaks out his flattop on this album and that's a real treat.
"Delano" starts out with a cool breezy acoustic melody line and as the song progresses, it moves into a groovy electric guitar vibe with some of the best cutting distortion lead tone I've heard in awhile.
Next, on "Sneaker Wave" the guitar sounds simply are out of this world. Landau goes from hippy-trippy hypnotic melodies to wide open reverberated harmonic chord progressions that remind me a lot of Eric Johnson. The lead lines are dynamic, exciting and soulful.
With "Spider Time" we have a Hendrixy sounding melodic chord-structure with one single straight ahead beat on the ol' toms. Man oh man, this kat Landau has got some chops. The keyboards (Wurlitzer) on this are also top-notch.
I will stop describing more tracks, as all are outstanding. As far as the rest of the album goes, there are plenty more interesting arrangements and impressive guitar-hero type playing.
The music is all rock / blues oriented with some fusion undertones, laced and interwoven into to Landau's fabric of sound. Moreover, if 'TONE' is your thing, then this CD is Pure Tone Paradise.
Michael Landau is a Master Harmonic Craftsman of Sound with a guitar in his hands.
This incredible musician constructs in "Organic Instrumentals" some of the most melodically beautiful phrases ever recorded with passion drenched guitar solos, resulting in a guitar tour de force that must be heard to be believed.
The music has many highs and lows in it. The sounds go from very mellow to bombastically loud in an instance, giving you a rollercoaster type of effect.
I know that instrumental albums aren't for everyone, but beyond the musical genre that you like most, do yourself a favor and listen this masterwork.
Outstanding
01 – Delano
02 – Sneaker Wave
03 – Spider Time
04 – The Big Black Bear
05 – Karen Mellow
06 – Ghouls And The Goblins
07 – Big Sur Howl
08 – Woolly Mammoth
09 – Smoke
10 – The Family Tree
Michael Landau: All Guitars
Larry Goldings: Hammond (1-3, 5-9), piano (3)
Estey Reed: Keyboards (9), Carillion (9)
Jimmy Haslip: bass (1, 3)
Andy Hess: bass (4, 5, 8)
Chris Chaney: bass (6)
Teddy Landau: bass (2)
Charley Drayton: drums (1, 8)
Vinnie Colaiuta: drums (2)
Gary Novak: drums (3-7)
Walt Fowler: flugelhorn (7)
BUY IT !
www.shrapnelrecords.com/michael-landau-group/organic-instrumentals
.