ZAR – Don't Wait For Heroes [Digipak]
Founded by German guitarist Tommy Clauss, ZAR delivered a stupendous AOR album in 1990 with ex-Uriah Heep icon John Lawton on vocals (featured here).
As requested, here's the band comeback album "Don't Wait For Heroes", released by Metalapolis Records in association with ComeBack Media (the new name for YesterRock Records) and Pride & Joy Music.
This time mastermind Tommy Clauss decided to take the lead vocals duties as well, for the first time in Zar's career. Recorded & produced by themselves and mastered by renowned Alexander Krull (Leaves' Eyes) "Don't Wait For Heroes" has all the Zar trademarks from the last period: groovy hard rock with melody in a typical German mold.
Title track opens the CD and it's the first sample of pure '80s hard rock stuff at its best, driven by a big groove, a memorable chorus line and crunchy guitars.
After the melodic 'One Step Closer' and the kicking 'Fighter', in 'The Rain Is Still Going On" we have one of the album's highlights, a beautiful and so emotional classic ballad that includes superb vocals and a huge guitar work.
It's time to speed things up a bit with the fast-paced rocker of 'Till The Final Day', and later the midtempo 'Time' is another top moment, a bit theatrical, that grabs you with its haunting melody and Clauss' solid performance.
Clauss is mainly a guitarist, and he shows his guitar play off in the heavy 'Triumph Of Faith', and steals all the attention with some hot solos on 'Stalingrad', 'Konsuke' and the little cliché but veritable 'Storm'.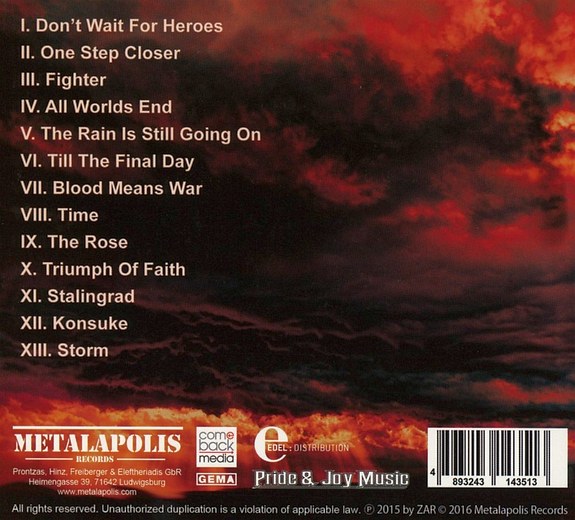 "Don't Wait For Heroes" is a simple yet extremely effective traditional hard rock album with all the '80s vibe intact.
Clauss is a really good guitar player (also at charge of bass) and while he's not Lawton, his vocals are pretty good, in tune. Especially on the midtempo tracks, where the groove and atmosphere take place, is where this current Zar works better.
01 – Don't Wait for Heroes
02 – One Step Closer
03 – Fighter
04 – All Worlds End
05 – The Rain Is Still Going On
06 – Till the Final Day
07 – Blood Means War
08 – Time
09 – The Rose
10 – Triumph of Faith
11 – Stalingrad
12 – Konsuke
13 – Storm
Tommy Clauss – vocals, guitars, bass
Lars Nippa – drums
Hartmut Layer – keyboards
Uta Lutgarth – cello
BUY IT !
www.nehrecords.com/product/zar-dont-wait-for-heroes/
.