DAVE BICKLER (ex-Survivor) – Darklight (2018) *EXCLUSIVE*
Today we are bringing to you another exclusive: "Darklight", the full length debut album from former Survivor lead vocalist DAVE BICKLER. Yes, believe it or not, while Bickler has been active in the music business all these years, this is his solo debut CD.
Invited by Jim Peterik to join his new band Survivor in 1978, Dave Bickler become the group's lead singer for six years, recording their first 3 albums and of course, he's the vocalist on the iconic song "Eye of the Tiger".
Dave returned to the band between 1993-2000, and since then continued with his work in jingles / advertisements, including Bud Light's "Real Men of Genius" TV and radio commercials.
The vocalist has been playing some solo gigs as well – he did the Rockingham Festival, England, 2017, and currently is doing some dates with Bonfire's fresh album 'Legends' shows.
Almost ten years have passed since Bickler reported that he was working on a solo album, the first of his career.
Well worth the wait; "Darklight" is here and it's a very good album.
Bickler took the time to compose eleven solid songs, carefully polish arrangements and record the whole thing with attention to detail.
Each song seems to have been created in order to establish a link between his past and present musical background, glimpsing a future in which the vocalist happens to be remembered as something beyond the beret face that sings "Eye of the Tiger".
There's a noticeable degree of introspection; the general theme is reflexive – "there is no light without dark" – in Bickler's own words, whose updated vocal timbre nowadays has matured since the Survivor years, and musically, the album is 'adult melodic rock'.
But don't be fooled; the stamp of early '80s Survivor is all over "Darklight", and even brings to mind Jim Pererik works from the last twenty years.
Opener 'Hope', to my ears, recall Night Ranger's Kelly Keagy solo albums, a midtempo melodic rocker with that classy atmosphere.
'Kaleidoscope' has some Rick Springfield to it with its really melodious chorus, 'Fear of the Dark' rocks with strong guitars, while 'Magic' indeed brings back that Survivor magic with a contemporary feel.
'The Gift' is a melodic rocker AORish tune with sweet vocal lines and an overall John Waite '90s feeling, then with its heavier riff 'Time' is darker, the other side of Dave's "there is no light without dark" approach to this album.
'Sea of Green' is lighter, not a ballad but adds acoustics to the mix, and for a proper ballad there's 'Angel Heart' showcasing Bickler's voice.
Some synths / keyboards embellish uptempo closer 'The Sky Is Falling', a dynamic melodic rocker with a guitar work / solo reminiscent of his former band mate Frankie Sullivan. One of my favorite songs on the album.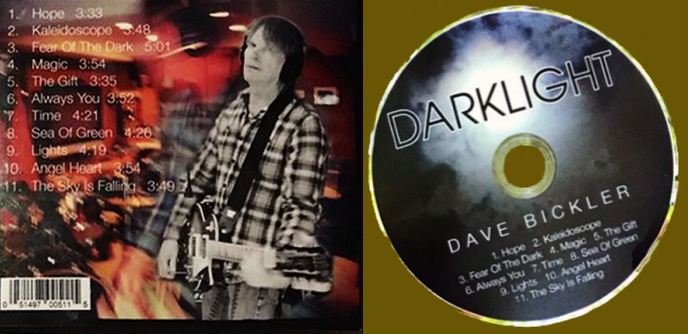 Sure, there's some subtle references to Survivor's music on Dave Bickler's debut solo album "Darklight", however the vocalist go for his own identity here.
It's all classic US melodic rock, timeless melodies shaped with an updated sound yet firmly planted in the golden era of the genre.
Welcome back, Dave.
Highly Recommended
You've seen it first here, at 0dayrox
01 – Hope
02 – Kaleidoscope
03 – Fear of the Dark
04 – Magic
05 – The Gift
06 – Always You
07 – Time
08 – Sea of Green
09 – Lights
10 – Angel Heart
11 – The Sky Is Falling
Dave Bickler – vocals, guitar, keys
Steve DeAcutis – guitar solos, bass, drums, keys
BUY IT
www.amazon.de/Darklight-Dave-Bickler/dp/B07HMVPV11/
.