METALLICA – Master Of Puppets [Japan SHM-CD Remastered] (2018)
After the fresh release of METALLICA's … And Justice For All, as requested, here's the "Master Of Puppets" new remaster appeared last year, but in its Japanese SHM-CD press out April, 2018.
Will this remastered reissue of "Master Of Puppets" convince you it's one of the greatest metal records of all time, if you're not convinced already? I guess the answer is 'yes', it really sounds fantastic.
Its predecessor, 1984's Ride The Lightning, began with 'Fight Fire With Fire', a song fueled by nuclear paranoia, which was not at all uncommon in the '80s. Puppets opens with "Battery," a celebration of destruction as a liberating force, trading in commentary for a purely aspirational message. It's basically 'Fight Fire…' widened in philosophical scope and tightened in performance.
In this way, "Master Of Puppets" wasn't a radical break from Lightning. Both mostly follow a similar structure—acoustic intro, second song as title track, a "ballad" on the fourth song, a long instrumental—and yet Metallica were not copying themselves or refining their approach.
They were crazy enough to think they could top Lightning, and they did. It's what separated them from most metal in general; they were the furthest thing from Def Leppard, but they wanted to push their own boundaries of metal as high art as much as Def Leppard was trying out-slick and out-pop their Los Angeles rivals.
In hindsight, game recognize game. Metallica abandoned Los Angeles because they couldn't hang with the glam metal bands there — all of those Decline of Civilization Part II Aqua Net rejects couldn't fathom wanting to ascend to Metallica's heights anyway.
"Master Of Puppets" deals with the very nature of control, presenting the hangover of its allure. Metal is fight music for underdogs and while that is empowering and worthwhile, the album shows the consequences of control in the wrong hands.
The title track was Hetfield warning himself about addiction. Through its raging rhythm and heart-wrenching valleys, where bassist Cliff Burton brought a distorted symphony of the mind, Hetfield's pleas for sanity sure don't sound like someone coming to grips with how f@cked up he is.
This isn't unusual for cautionary drug songs, yet the album doesn't sound like a morality play—"Master! Master!" is servitude delivered as arena unity, where you grow stronger, not indentured, by yelling it louder and louder.
"Disposable Heroes" and "Leper Messiah" explore the illusion of control through more conventional topics—"Heroes" takes on war and "Messiah" skewers televangelists as any decent '80s metal band would—and still manage to be more powerful than most bands at their best.
Metallica embraced more complex structures without diluting themselves, a rare instance where a band gets more accessible by getting more complicated.
Puppets' fusion of beauty and savagery is best defined in its last two songs, "Orion," an instrumental, and "Damage Inc." Both tracks were co-written by Burton, effectively sealing his legacy that still looms over Metallica three decades later.
His presence is strongest on "Orion," making thrash move like ballet, a swelling motion that's not just about crashing into things. The bridge takes the control motif and creates worlds with it, creating tenderness and majesty, showing what a man's hand masquerading as divine can summon. "Orion" is celestial through meaning, not explicit text, Hawkwind's high-mindedness combined with Lemmy's more direct glance.
"Damage Inc." closes how "Battery" opened the album: reckless carnage as a cleansing, necessary fire. While it's more of a contrast than fusion, they still coexist with a purpose to elevate metal. It's even more apocalyptic than 'Fight Fire With Fire' — there's no mention of nuclear war, just a focus on getting mowed down for someone else's survival.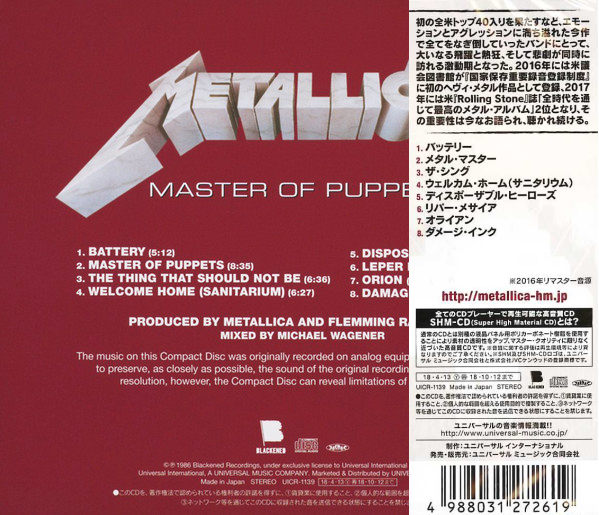 Hetfield / Hammett / Burton / Ulrich is one of the few metal lineups where every member was equally integral, where if you removed one, the band would be radically altered. And indeed this happened with the next album after Burton tragically died. For many, Metallica never was the same.
"Master Of Puppets" brought Metallica to their artistic climax, and in my humble opinion, it's their masterpiece.
HIGHLY Recommended
Universal Japan / Blackened ~ 【UICR-1139】
M E T A L L I C A 『 SHM-CD 』
01 – Battery
02 – Master Of Puppets
03 – The Thing That Should Not Be
04 – Welcome Home (Sanitarium)
05 – Disposable Heroes
06 – Leper Messiah
07 – Orion
08 – Damage, Inc.
James Hetfield – vocals, guitar
Kirk Hammett – guitar
Cliff Burton – bass
Lars Ulrich – drums
BUY IT !
www.cdjapan.co.jp/product/UICR-1139
.