RAINLIGHT – Lost In Time (2018)
Founded three years ago and hailing from Sherbrooke, Québec, Canada, RAINLIGHT are releasing their debut album "Lost In Time". While the title is referring to classic melodic rock of old – read '80s – the band is not lost at all; all are seasoned musicians and glue really well.
Drummer Jean-Patrice Leroux wanted to resurrect the melodies from a time when Rock music was about having a good. He meet vocalist Carbo performing classic hard rock songs at various venues, and soon Steeve Poirier (bass player in Necrotic Mutation) joined but to take command of guitars.
The songs in "Lost In Time" are indeed, '80s oriented both in songwriting and production sound.
Tracks such as 'Field of Souls', 'Howling' or 'Time Can't Wait' are midpaced melodic rockers with a strong rock&pop base with the typical Canadian feel and atmosphere from the '80s.
I can't help, but the main chorus, guitar sound / arrangements on 'Why so Serious?' makes me think of HoneyMoon Suite circa 1985, while the haunting 'Spiders' some Glass Tiger, but heavier.
'Since You've Been Gone' is not a cover of the famous song but a good ballad, on 'You'll Never Know' more HoneyMoon Suite catchiness appear, 'Under Your Spell' is some kind a of rocker meets pop in a Billy Idol vein (especially for the guitar work), then 'Whispering Words' is another really good semi-ballad with some Cutting Crew to it.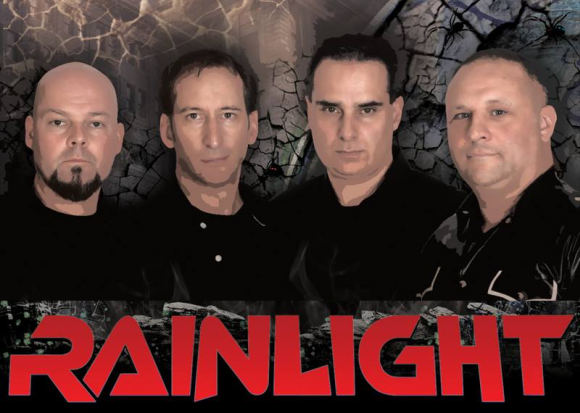 RAINLIGHT is a very interesting band because they bring back the '80s sounds in spades, but while most current acts doing this revival opt for catchy, instant melodies easy to the ears, "Lost In Time" explores other arrangements.
Indeed, Rainlight goes for more elaborated melodic rock / rock & pop, where guitars change from distorted to clean, and the rhythm section provide the drive for vocals to articulate. These guys have listened to the complete discography of The Arrows, Beau Geste, Gowan, Glass Tiger, and of course, HoneyMoon Suite.
Highly Recommended
01 – Field of Souls
02 – Rain Soldier
03 – Why so Serious?
04 – Howling
05 – Since You've Been Gone
06 – Tonight
07 – Time Can't Wait
08 – Spiders
09 – You'll Never Know
10 – Under Your Spell
11 – Whispering Words
Carbo – lead and backing vocals
Steeve Poirier – guitars, bass, keyboards
Jean-Patrice Leroux – drums
Martin Tremblay – bass
BUY IT !
www.facebook.com/Rainlightband/
.