SWEET SYBIL – ST (previously unreleased remastered tapes) Out Of Print
Requested by one of you, here's SWEET SYBIL self-titled album including the songs the band recorded between the late Eighties and early Nineties, remastered from the original tapes.
For its size, Chicago never was a hotbed for hard rock music. Sure, several bands emerged from the Windy City, but when compared to L.A. or New York the city's donation to the scene was minimal.
Sweet Sybil are one of those forgotten Chicago bands, forming in 1988, recording several songs but never lucky enough to get a record deal, and, like so many others, disbanding in 1992 due the rock music changing climate.
It has taken many years for Sweet Sybil's music to get a proper release, but thankfully these recordings saw the light of day, and while typically '80s hard rock, these guys don't sound dated at all.
The thing that separates Sweet Sybil from so many of the other hair-bands that emerged in the late '80s is vocalist Sam Carava. The guy has a unique voice that can be touch whiney, but adds a fresh element to the band's sleazy glammy hard rock.
It's his strong vocal chords that push "Remember When" and "Downtown Suicide" over the edge, resulting in songs that should have made Sweet Sybil underground fan favorites like L.A. Guns, Bang Tango and alike.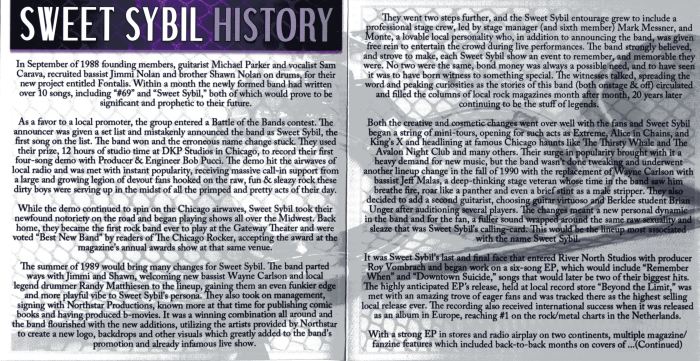 "Downtown Suicide", opening with the sounds of a newscaster and shotgun blast, finds the band at their finest. This song is heavy and sleazy, an almost perfect representation of '80s Sunset Strip.
"Remember When" works incredible well too, in a more accessible way with MTV and radio potential, while "Burning House" is a sinister sounding number that adds a darkness to the band's sound and a welcomed variation.
The final track "You & I" was recorded in 2009 — I assume the melodious acoustic number was written at that time as well.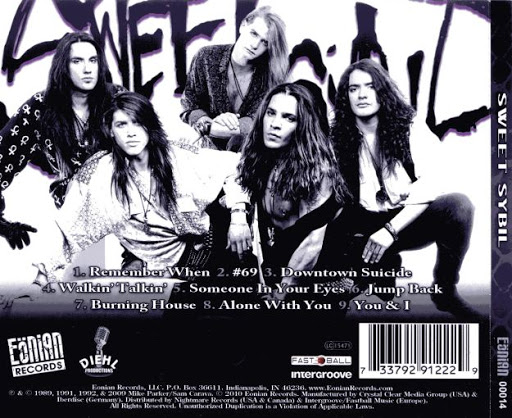 Dedicated to drummer Randy Matthiesen who passed away in October 1993, "Sweet Sybil" is an excellent stroll down memory lane.
The road to fame and success is built upon broken dreams and failures, but musically there was no reason why Sweet Sybil couldn't have gotten a little bit of recognition.
It's a shame, but this album would be a great way to close the book on both Sweet Sybil and the Chicago hair metal / glammy hard rock scene of the '80s.
Highly Recommended
01. Remember When
02. #69
03. Downtown Suicide
04. Walkin' Talkin'
05. Someone In Your Eyes
06. Jump Back
07. Burning House
08. Alone With You
09. You & I
Sam Carava – vocals
Mike Parker – lead guitar and backing vocals
Brian Unger – guitar and backing vocals
Jeff Malas – bass and backing vocals
Randy Matthiesen – drums and backing vocals
Out Of Print:
www.eonianrecords.com/new-products/sweet-sybil
.